Ukrainian Foreign Minister Says Country Looking for NATO Extensive Support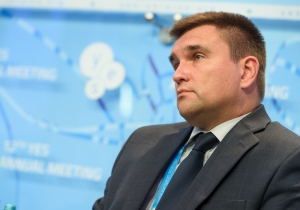 11 September 2015
Ukraine is looking forward for receiving an extensive support in reforms from the North Atlantic Treaty Organization, Ukrainian Foreign Minister Pavlo Klimkin has said. Klimkin was speaking at the 12th Yalta European Strategy (YES) Annual Meeting in Kiev on 11 September 2015.
"From NATO we need, first of all, an extensive, comprehensive support to Ukraine, support in complex reforming of the security and defence sectors", Klimkin said at the discussion "Containment, New Yalta, or What? Restoring European Security".
Pavlo klimkin also said that NATO will have to establish rules for Russia, as now there's a "bargaining on instability".
James Appathurai, Deputy Assistant Secretary General for Political Affairs and Security Policy, Secretary General's Special Representative for the Caucasus and Central Asia, NATO, said that cooperation with Russia is a subject to discussions. "Russians feel that they were deprived of the right for establishing sovereignty to their neighbours. Five out of six neighbouring states have territorial disputes with Russia, this is a very clear political indicator. We, as NATO, as the West, have to help these nations to stand out", Appathurai said.
Wolfgang Ischinger, Munich Security Conference Chairman, said that Ukraine's interests should not be concentrated at the issue of NATO only. "The most important issue for Ukrainian problems and for the ties this country has with Russia is to make Ukraine an attractive, growing, non-corrupted country", Ischinger said.
Another participant in the discussion, Vaira Vīke-Freiberga, President of Latvia (1999-2007) expressed an opinion that the Russian government is "psychopathic" and the reasons behind their behaviour are not worth of listening to while it is better to seek ways for mutual support and help. "Assistance given to you – these are blankets or other things for the Ukrainian army. But you have no ammunition, missiles are falling on you, multiple rocket systems are firing at you. So, this assistance is not enough", Vīke-Freiberga said.
The 12th Yalta European Strategy Annual Meeting will be streamed live at yes-ukraine.org as well as web-sites of the Media Partners in English and Ukrainian.
The official Twitter of the 12th YES Annual Meeting is @yes_ukraine, and participants and followers can include the hashtag: #YESUkraine2015.
←

Back to news list