Ukrainians have to unite in fight against corruption – representative of U.S. State Department Tomas O. Melia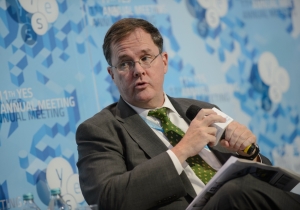 13 September 2014
The citizens of Ukraine have to unite in the fight against corruption in the state, since they can't overcome this phenomenon severally, stated Tomas O. Melia, Deputy Assistant Secretary, Bureau of Democracy, Human Rights and Labor, U.S. State Department at the session "Fight Corruption, Introduce the Rule of Law: Finally Walk theWalk" at 11th Annual Meeting of Yalta European Strategy (YES) on
Saturday in Kyiv.
"The young people – both researchers, journalists, lawyers and some politicians – are indeed committed to the cause of fighting corruption. Ukrainians should unite in order to resolve this problem, they have friends, the United States are willing to help. Several days ago we met with the General Prosecutor's Office of Ukraine, the Ministry of Justice, my colleagues from the Department of Justice offered the assistance in practice. But everything depends on Ukrainians and their state officials", -Melia said. He recalled that Ukraine is ranked 144 out of 177 states included in the research by the corruption index. Vitaliy Shabunin, Chairman of the Board of the Anticorruption Action Centre, who also took part in the session, believes corruption is not only Ukrainian problem. "The rotten corrupt money of the Eastern Europe, Ukraine and the world. Why do we strive so much towards Europe and die for Europe, which does not observe its own laws?" – asked Shabunin. Another panelist – the Minister of Economic Development and Trade of Ukraine Pavlo Sheremeta – asserted that the state should demonstrate zero tolerance to corruption, and these are the institutions to be lustrated, not persons: "The prevailing opinion in Ukraine is that corruption is good, it is adequate. A man of integrity is an exception. There are many talks about lustration. The society thinks people to be lustrated, while people are the last in queue, the structures are to be lustrated first of all." At the same time, in the Minister's opinion, Ukraine has demonstrated certain developments in the anticorruption policy for the recent six months. "We have done much actually, the new version of the governmental procurement law has been adopted, we have launched the website in free access to general public where they can trace the procurement deals, we have started denationalizing standardization and metrology – this is yet another quite corrupt branch", - stated Sheremeta.
Yalta European Strategy (YES) is the leading public diplomacy platform in Eastern Europe to develop strategies for Ukraine and Wider Europe and promote Ukraine's European integration. YES was established in 2004 by Ukrainian businessman and public figure Victor Pinchuk and is led by a distinguished board including President of Poland (1995-2005) Aleksander Kwasniewski, former Secretary General of NATO (1995-1999) and EU High Representative for Foreign and Security Policy (1999-2009) Javier Solana, and others.
The 11th Yalta European Strategy (YES) Annual Meeting will be streamed live at yes-ukraine.org in English and Ukrainian.
The official Twitter of the 11th YES Annual Meeting: @YES_Ukraine, Hashtag: #YESUkraine2014
Special Partners of the 11th YES Annual Meeting include:
DTEK, ALFA-BANK (UKRAINE), BURISMA HOLDINGS
Partners of the 11th YES Annual Meeting are:
SHELL, INTERNATIONAL RENAISSANCE FOUNDATION
Media Partners of the 11th YES Annual Meeting are:
ICTV, UKRAYINSKA PRAVDA, NOVOYE VREMYA STRANY (NV), ERA FM
←

Back to news list