We underestimate the impact of social media on politics, says Tony Blair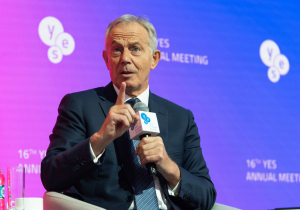 14 September 2019
Social media has changed our expectations of politicians, stated Tony Blair, Executive Chairman of the Tony Blair Institute and former UK Prime Minister, at the 16th Yalta European Strategy (YES) Annual Meeting, "Happiness Now. New Approaches for a World in Crisis", organised by the Victor Pinchuk Foundation.
"As a society we seem to underestimate the impact of social media. Of course there are many benefits of social media and it is important that people have the freedom of expression. At the same time, social media devalues the expertise of individuals, in particular politicians. I know a lot about Newcastle football club, as an avid supporter, but I don't pretend to know as much as the Newcastle United Manager, for instance. People in the UK say that Parliament doesn't meet the people's will, but in reality, these parliamentarians explore issues is huge amounts of detail – this is what they were elected for." he said.
Continuing on the same theme, Blair argued that what is popular on social media is not always well thought out and well-founded. "People that are yelling the loudest are far from always deserving to be heard. A new relationship between voters and politicians should be sought." he said.
"Social media does not allow for postponing decisions. People throw ideas on social media and assume it's a politicians responsibility to adopt them. If we want to restore democracy, we need to find ways for people to assume part of the responsibility, together with those who are in power. This must be two-way, otherwise democracy will fail." concluded Blair.
←

Back to news list