Agreement with the EU should include the perspective of Ukraine's membership in the European Union – Azarov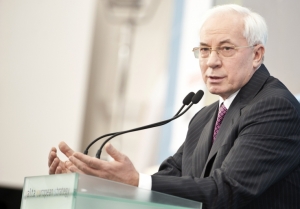 17 September 2011
Prime Minister of Ukraine, Mykola Azarov, believes that the agreements with the EU to be signed soon should include prospects for Ukraine's membership in the European Union. The leader of Ukrainian government declared so during the discussion "Eastern Europe and the Role of Ukraine" at 8th Yalta Meeting of YES.
"The European Union is not a groom, and Ukraine is not a bride. The debates whether or not to enter the prospects in the agreement seem to me rather bureaucratic and ceremonial," he noted. "They definitely should be included if we think about the future, if we look not only on the present day. Europe is on the verge of the deepest transformations. Let's look what China was like 20 years ago and look from a 10-year perspective. Our debates will have no sense in 10 years," he emphasized.
The 8th Yalta Annual Meeting entitled "Ukraine and the World: Common Challenges, Common Future", organized by the Yalta European Strategy (YES) in partnership with the Victor Pinchuk Foundation, takes place in Livadia Palace, Ukraine from 15th to 18th of September 2011.
Special Partners:
Alfa-Bank Ukraine
TNK-BP
Partners:
Visa Inc.
International Renaissance Foundation
ONUR
Communication Partner:
Kyivstar
Media Partners:
Euronews
ICTV
Korrespondent magazine
Korrespondent.net
ERA FМ
←

Back to news list