Personal Income Inequality Cut to Help Fighting Populism - EC Vice President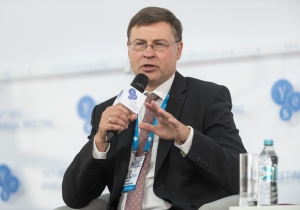 14 September 2018
Reducing inequality in people's personal income is an effective measure to fight a "wave of populism" seen around the globe, EC Vice President for Euro and Social Dialogue, Financial Stability, Financial Services and Capital Markets Union, Valdis Dombrovskis, has said.
- Why did it happen that today we are observing a wave of populism in Europe? We believe that income inequality is one of the components to work on. We came out of a huge crisis and still have to harvest social consequences of this crisis. Many people just do not see any benefit in globalization and economic development. That is why we have to concentrate upon fighting inequality, - Dombrovskis said. He was addressing the 15th Yalta European Strategy (YES) Annual Meeting "The Next Generation of Everything", organized by the Victor Pinchuk Foundation.
Valdis Dombrovskis added that Europe's economy demonstrates growth for the sixth year in a raw and it is very important that this is reflected on income of all layers of society.
The official Twitter handle of the 15th YES Annual Meeting is @yes_ukraine, and participants and followers can include the hash tag: #YESUkraine2018
Partners of 15th YES Annual Meeting:
Arawak Energy, Hillmont Partners, lifecell, International Renaissance Foundation, Western NIS Enterprise Fund (WNISEF).
Media partners of 15th YES Annual Meeting:
Dzerkalo Tyzhnya (DT.UA), European Pravda, ICTV, Liga.net, Novoye Vremya Strany (NV), PRYAMIY Channel, Radio NV, The Kyiv Post.
←

Back to news list