Investment of people, money and technologies required to effectsignificant change in the energy sector – DTEK General Director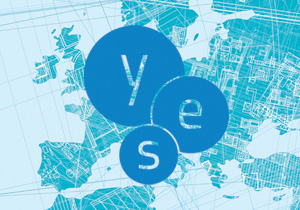 20 September 2013
In the Soviet era, Ukraine produced some 70 m3 of natural gas. For political reasons the then leaders of the USSR restructured the national economy to use Siberian gas.
In the Soviet era, Ukraine produced some 70m3 of natural gas. For political reasons the then leaders of the USSR restructured the national economy to use Siberian gas. We know that Ukraine has strong development potential in the gas domain. However, this potential cannot be unlocked unless three key prerequisites are in place – financial investment, highly skilled experts and technologies, stated DTEK General Director, Maxim Timchenko, during the session "Energy: Threats, Solutions, Revolutions" at the 10th Annual Meeting of Yalta European Strategy.
"An injection of people, money and technologies could change the situation in the energy sector dramatically," Maxim Timchenko stated, "primarily, the proportion of public/private ownership needs to change: today 90% of energy generation is in the hands of the state. At the same time, the investment climate and legislative framework need to be improved."
During his address, Maxim Timchenko also reported that gas importation into Ukraine from the EU has begun, with the first imports coming from Hungary. Building on this will reduce over-reliance on energy supply from one source.
President of Ukraine Viktor Yanukovych and President of the Republic of Lithuania
Dalia Grybauskaitė officially opened the 10th Yalta Annual Meeting on September 20th. They presented their visions on how to create synergies for Wider Europe.
The 10th Yalta Annual Meeting will focus on factors of success that create strong, competitive, sustainable and fair countries and societies. Among the topics will be the global economy, energy security, threats and innovations transforming our lives, as well as successful leadership approaches. Special attention will be paid to the future of Wider Europe and Ukraine's cooperation and integration perspectives.
Among the speakers are Carl Bildt, Minister for Foreign Affairs of Sweden; Stefan Fule, EU Commissioner for Enlargement and European Neighbourhood Policy; Sergey Glazyev, Advisor to the President of the Russian Federation; Kairat Kelimbetov, Vice Prime Minister of Kazakhstan; Leonid Kuchma, President of Ukraine (1994 – 2005); Aleksander Kwasniewski, President of Poland (1995-2005) and Chairman of the Board of YES; Mario Monti, 54th Prime Minister of Italy (2011 – 2012); Ronald Noble, Secretary General Interpol; Gen. David H. Petraeus (US Army, Retired), Director, Central Intelligence Agency (2011 – 2012); Bill Richardson, 30th Governor of New Mexico, 9th United States Secretary of Energy (1998 – 2001); Gerhard Schröder, Chancellor of the Federal Republic of Germany (1998-2005); Radoslaw Sikorski, Minister for Foreign Affairs of Poland; Javier Solana, EU High Representative for CFSR (1999-2009), member of the Board of YES; and Lamberto Zannier, Secretary General, Organization for Security and Co-Operation in Europe.
Speakers also include leading businessmen, economists and experts: Andrei Kostin, President and Chairman of the Management Board, VTB Bank; Daphne Koller, Co-Founder, Co-CEO, Coursera; Pascal Lamy, former Director General, WTO (2005 – 2013); Nouriel Roubini, Professor, Stern School of Business, New York University; Niall Ferguson, Laurence A. Tisch Professor of History, Harvard University; Michio Kaku, physicist and futurist; Dominique Strauss-Kahn, former Managing Director of the International Monetary Fund (2007-2011); Martin Wolf, Chief Economics Commentator, The Financial Times; Robert Zoellick, former president of the World Bank (2007-2012); and others.
In addition to President Yanukovych, Ukraine is represented by Prime Minister Mykola Azarov, Yuriy Boyko, Vice Prime Minister; and Leonid Kozhara, Minister for Foreign Affairs, among others.
Chrystia Freeland, Fellow, Martin Prosperity Institute at the University of Toronto and former Editor of Consumer News, Thomson Reuters (2013), will moderate panel discussions on September 20th; Stephen Sackur, journalist and Host of HARDtalk, BBC, will moderate on September 21st.
The 10th Yalta Annual Meeting is streamed live at korrespondent.net and yes-ukraine.org in English and Ukrainian on September 20th and 21st.
Live Webcasts will also be available on the websites of ICTV (ictv.ua), Channel 5 (5.ua), «Kommersant» newspaper (kommersant.ua), as well as the online edition of "Ukrainska Pravda» (pravda.com.ua).
The official Twitter of the 10th Yalta Annual Meeting: @yes_ukraine, hashtag: #yalta2013
Special Partners of the 10th Yalta Annual Meeting include:
DTEK
ALFA-BANK (UKRAINE)
Partners of the 10th Yalta Annual Meeting are:
Shell
Smart-Holding
DCH
Visa Inc.
International Renaissance Foundation
State Agency for Investment and National projects of Ukraine
Media-partners:
Euronews
Korrespondent
Korrespondent.net
ICTV
ERA FM
Contact information for Media enquiries:
Tel.: +380 44 494 11 48
←

Back to news list