No Soon Winding-Up of Conflict in Donbass - Foreign Relations Council President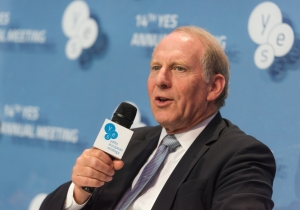 16 September 2017
The probability of cessation of the armed conflict at Ukraine's east and Crimea re-joining Ukraine is very low, the president of the Council on Foreign Relations, Richard Haass, has said.
"I'm not forecasting any changes regarding Crimea. Probably, there will be some peacekeeping contingent on the east, but we understand that this will not lead to resolving the issue. I'm also looking forward for sanctions the US Congress to approve, and, possibly, a decision regarding lethal weapon may be approved", - Richard Haass said. Haass was speaking at the 14th Annual Meeting of the Yalta European Strategy held by Victor Pinchuk Foundation.
The presenter of BBC HARDtalk program, Stephen Sackur, upheld the opinion that the conflict at Ukraine's east is going to last further due to Russia's hardline stance. "I do not want to use the work "frozen" as it would mean "forever", but I see no changes at all about Crimea. When Putting was saying that in the North Korea they would rather eat grass than take a step back, he was also speaking about himself", - Sackur.
CNN Fareed Zakaria GPS program host, Fareed Zakaria, said for his part that he was certain Ukraine would continue to receive support from the USA in the future. "Your best luck now is Donald Trump's incompetence. He did it that way that the US president cannot be sympathetic to Russia now. He put himself into a trap: if he makes any concessions to Russia, people will think Vladimir Putin gave him some money", - Fareed Zakaria said.
The Yalta European Strategy and EastOne Group Founder, Victor Pinchuk, said for the conclusion that the accuracy of the forecasts made by journalists and experts at the Yalta European Strategy meeting will be checked in a year, at the next Yalta European Strategy annual meeting. "I promise we will check your talents in making forecasts as early as the next year. In Yalta [Crimea]", - Pinchuk said.
The online stream of the Yalta European Strategy (YES) 14th Annual Meeting will be available online at yes-ukraine.org as well as on the websites of our media partners, in both English and Ukrainian.
The official Twitter of the 14th YES Annual Meeting is @yes_ukraine, and participants and followers can include the hash tag: #YESUkraine2017
←

Back to news list