The road to peace demands resolve but be ready to lose your popularity - Juan Manuel Santos Calderón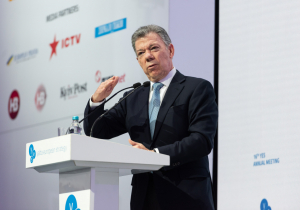 14 September 2019
The road to peace is extremely difficult and requires that politicians be ready to lose their popularity when they follow it, former President of Colombia (2010-2014, 2014-2018) and recipient of the 2016 Nobel Peace Prize, Juan Manuel Santos Calderón, said at the 16th Yalta European Strategy (YES) Annual Meeting "Happiness Now. New Approaches for a World in Crisis" organised by the Victor Pinchuk Foundation.
"If you really want to achieve peace, you must be resolute and ready to lose your popularity. There is nothing more difficult than to explain to the public why you hold talks with someone who commits murders in the next street," he said during the Shimon Peres Peace Lecture.
Juan Manuel Santos added that he had first-hand experience of this, "I indeed paid with my political capital. I was elected president in 2010 with a high majority. However, once I started to seek peace and talk to my former enemies, my popularity slumped and I was called a traitor. Peace is better than war but people often fail to understand how true this statement really is," the former President of Colombia said.
He also emphasised that achieving a long-term settlement of conflict requires one to be ready to make concessions and engage all parties truly interested in establishing peace in the negotiation process.
←

Back to news list