Happiness implies people's ability to acknowledge their own mistakes – creator of Chernobyl Series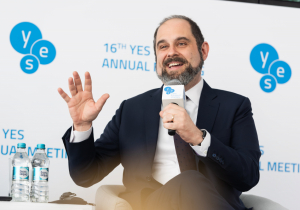 13 September 2019
The ability to be self-critical is an inherent precondition for true happiness, believes the author of the idea and script for the successful Chernobyl TV series, Craig Mazin.
"An important element of happiness is the ability to be self-critical and to acknowledge various mistakes," he said at the 16th Yalta European Strategy (YES) Annual Meeting, "Happiness Now. New Approaches for a World in Crisis", organised by the Victor Pinchuk Foundation.
He added that this rule is relevant to both an individual and to society, nations at large. "One of the features of a healthy and strong nation is its ability to look at itself and to be happy even when nobody wants you to be happy," he said.
In Craig Mazin's opinion, it is the inability to critically assess one's past that explains the wave of criticism against the Chernobyl TV series that occurred in the Russian media.
←

Back to news list