Sanctions against Russia will be maintained, but its full isolation should not be expected – Condoleezza Rice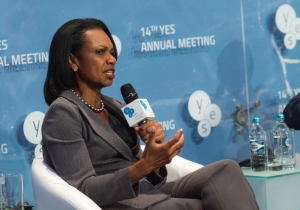 15 September 2017
The sanctions against Russia will not be lifted in the near future, but the country's full isolation should not be hoped for either, said the 66th US Secretary of State, Condoleezza Rice at the 14th Yalta European Strategy (YES) Annual Meeting, organised by the Victor Pinchuk Foundation.
"Putin has proof from what happened in Georgia, that sooner or later, people are fatigued by sanctions. However, there are clear differences in the case of sanctions imposed because of illegal Russian interference in Ukraine. There is very strong support for these sanctions from leaders in Europe and the US, for example from Angela Merkel. And in the US policy is being implemented such that the administration cannot influence them. Because of this, Putin is wrong to believe that sanctions will be lifted any time soon", she said.
However, Rice followed these remarks by stressing that Ukraine should not wait for action from the international community, but should proactively move forward itself.
"I want to tell Ukraine: as long as you have this time, use it. Use it to strengthen your energy independence, and your economy, to show the benefit of living in a strong Ukraine to the people in the Eastern regions, and to fight corruption. To put it simply, do not sit and wait in the belief that the international community will isolate Russia forever. This will not happen, as Russia remains an important country ", she concluded.
The online stream of the Yalta European Strategy (YES) 14th Annual Meeting will be available online at yes-ukraine.org as well as on the websites of our media partners, in both English and Ukrainian.
The official Twitter of the 14th YES Annual Meeting is @yes_ukraine, and participants and followers can include the hash tag: #YESUkraine2017
←

Back to news list