Development of national energy sector key to solving Ukraine's political problems – Radoslaw Sikorski, MP, Poland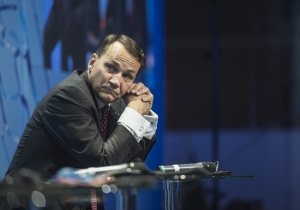 11 September 2015
Developing the national energy sector will help Ukraine settle all its political problems, Radoslaw Sikorski, a member of the Polish parliament, former Polish minister of foreign affairs (2007-2014) and speaker of the Polish Seim (2014-2015), said at the 12th Yalta European Strategy (YES) Annual Meeting in Kiev on Friday 11 September.
"The Ukrainian economy is not energy efficient; it consumes three times as much energy as the Czech Republic, to say nothing of Germany," Sikorski remarked in the course of the panel discussion entitled, "Energy – from Gordian Knot to Silver Bullet?". "If Ukraine becomes as energy efficient as some of the Central European countries are, if it can make do with its own gas production volumes – and it produces a fair amount of gas – then its current geo-political problems will disappear from the horizon."
Ian R Taylor, president and CEO at Vitol Group, who also took part in the discussion, concurred that gas-related issues were used time and time again for the purpose of manipulating Ukraine.
"Ukraine has fantastic oil and gas reserves, which are in fact the primary factor for energy security," Taylor said. "What we need is investment, and the right political approach, so Ukraine can be self-reliant and we will solve these problems."
The 12th Yalta European Strategy Annual Meeting will be streamed live at yes-ukraine.org as well as web-sites of the Media Partners in English and Ukrainian.
The official Twitter of the 12th YES Annual Meeting is @yes_ukraine, and participants and followers can include the hashtag: #YESUkraine2015.
←

Back to news list