Russia will not change its "tune", - Alexander Kwasniewski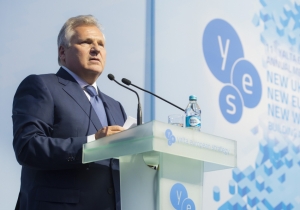 13 September 2014
Russia is seeking to restore the superpower that the Soviet Union used to be, and the politicians in Europe and in the USA should know about that, this is the message shared by Alexander Kwasniewski, Polish President (1995-2005), chairman of the board of the Yalta European Strategy (YES) when closing the 11th YES Annual Meeting in Kyiv.
Kwasniewski recalled the story of the USSR anthem, that later, after certain changes, became the anthem of the RF, and even sang it. The music was composed by Aleksandr Aleksandrov, and the lyrics are by Sergey Mikhalkov, whereas the latter changed the lyrics depending on the rulers of the State.
"This is the history of the Soviet Union, Russia. What is the conclusion for you, Europeans, Americans, what do you have to know? Russia is a country that I respect very much, as many of you do, we all do, but you have to know, I insist very much: this country might change the words, the lyrics, the vocabulary, but it will never change the tune", stressed Kwasniewski, provoking applause of the YES participants.
Yalta European Strategy (YES) is the leading public diplomacy platform in Eastern Europe to develop strategies for Ukraine and Wider Europe and promote Ukraine's European integration. YES was established in 2004 by Ukrainian businessman and public figure Victor Pinchuk and is led by a distinguished board including President of Poland (1995-2005) Aleksander Kwasniewski, former Secretary General of NATO (1995-1999) and EU High Representative for Foreign and Security Policy (1999-2009) Javier Solana, and others.
The 11th Yalta European Strategy (YES) Annual Meeting will be streamed live at yes-ukraine.org in English and Ukrainian.
The official Twitter of the 11th YES Annual Meeting: @YES_Ukraine, Hashtag: #YESUkraine2014
Special Partners of the 11th YES Annual Meeting include:
DTEK, ALFA-BANK (UKRAINE), BURISMA HOLDINGS
Partners of the 11th YES Annual Meeting are:
SHELL, INTERNATIONAL RENAISSANCE FOUNDATION
Media Partners of the 11th YES Annual Meeting are:
ICTV, UKRAYINSKA PRAVDA, NOVOYE VREMYA STRANY (NV), ERA FM
←

Back to news list