Russia does not comply with its obligations under the Minsk process – Kurt Volker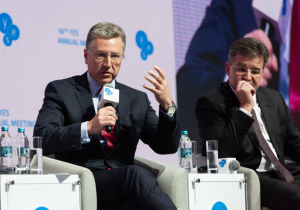 14 September 2019
Russia does not demonstrate any political will to put an end to the conflict in East Ukraine, as it fails to comply with the commitments it made under the framework of the Minsk process, said US Special Representative for Ukraine, Kurt Volker at the 16th Yalta European Strategy (YES) Annual Meeting "Happiness Now. New Approaches for a World in Crisis" organised by the Victor Pinchuk Foundation.
"The problem is that Russia does not recognise its responsibility in accordance with the Minsk Agreements. It undertook some obligations, and does not want to fulfill them. Russia pretends it is not there (in East Ukraine) at all and bears no responsibility. According to Russia, there is an internal problem in Ukraine, and the latter must negotiate with the so-called "people's republics". This is a denial of reality and responsibility. We need to get back to working with Russia so that it recognises its obligations," he said.
Volker added that elections in Ukraine's temporarily uncontrolled territories can only take place after resolving security issues, saying, "Free and transparent elections, as envisaged in the Minsk Agreements, can only take place in a safe environment. To that end, we need to address security issues, which is where political will comes into the spotlight. Russia has not displayed yet any political will to put an end to the conflict," said the US State Special Representative for Ukraine.
At the same time, Mr Volker said he believes that the efforts of Ukraine's new government will facilitate the resolution of conflict in the Donbas.
"I hope that Ukraine's success, the recent changes, the dynamism shown by President Volodymyr Zelensky, and the exchange of prisoners will refine the context, and we will witness some progress in the future. But we need to see if Russia is ready for that," Kurt Volker added.
←

Back to news list