Russia has to recognize Ukraine's right to negotiate on agreements it needs, - Jose Manuel Barroso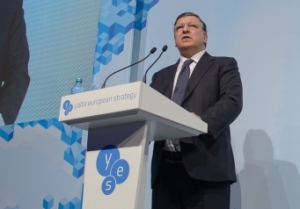 13 September 2014
Russia has the right to negotiate with any countries, therefore, it should recognize the right of Ukraine to negotiate on agreements the Ukrainian State needs. President of the European Commission Jose Manuel Barroso, the featured speaker of the Yalta European Strategy (YES) stressed this on Friday in Kyiv, answering the questions after his evening speech, "Working Together for a United Ukraine in a United Continent".
"At a certain moment, Russia suggested trilateral negotiations. We answered yes. I do not think that the EU was invited when Russia negotiated with Kazakhstan. I guess, Russia has the right to negotiate with any countries, and it should recognize Ukraine's right to negotiate on agreements that Ukraine needs. If the EU recognized as a condition to negotiate on the trade agreement the participation of a third party, this would have meant that we agree to the concept of the spheres of influence", stressed Barroso.
He assured that Russia's unawareness about the negotiations between the EU and Ukraine absolutely did not reflect the reality. "For all those years, Russia had never minded…they knew about everything that was happening, and at different levels, we provided information", stressed the European Commission President. Also, he pointed out that that previously, the RF had not had any objections as for Ukraine's gaining the EU membership, despite the fact that they had been objecting it's acquiring NATO membership. "The truth is that Russia's position changed as for the likelihood of rapprochement with the EU. And obviously, this is related to the goal that emerged suddenly in the reflection of the Moscow leadership".
At the same time, the EU suggested Russia and Ukraine to have trilateral negotiations on the energy, but the Russian counterparts did not agree.
Yalta European Strategy (YES) is the leading public diplomacy platform in Eastern Europe to develop strategies for Ukraine and Wider Europe and promote Ukraine's European integration. YES was established in 2004 by Ukrainian businessman and public figure Victor Pinchuk and is led by a distinguished board including President of Poland (1995-2005) Aleksander Kwasniewski, former Secretary General of NATO (1995-1999) and EU High Representative for Foreign and Security Policy (1999-2009) Javier Solana, and others.
The 11th Yalta European Strategy (YES) Annual Meeting will be streamed live at yes-ukraine.org in English and Ukrainian.
The official Twitter of the 11th YES Annual Meeting: @YES_Ukraine, Hashtag: #YESUkraine2014
Special Partners of the 11th YES Annual Meeting include:
DTEK, ALFA-BANK (UKRAINE), BURISMA HOLDINGS
Partners of the 11th YES Annual Meeting are:
SHELL, INTERNATIONAL RENAISSANCE FOUNDATION
Media Partners of the 11th YES Annual Meeting are:
ICTV, UKRAYINSKA PRAVDA, NOVOYE VREMYA STRANY (NV), ERA FM
←

Back to news list