Decision on Ukraine's admission to the EU largely depends on its members' political will - Dmytro Kuleba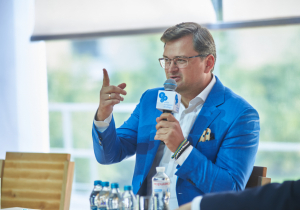 11 September 2021
A decision on Ukraine's admission to the European Union depends to a great extent on the political will of its members, rather than the country's progress in implementing reforms alone, which needs to be recognized fairly, said Dmytro Kuleba, Minister for Foreign Affairs of Ukraine, has said at the YES Brainstorming organised by the Yalta European Strategy (YES) in partnership with the Victor Pinchuk Foundation.
"We have to admit a simple fact that the EU member states' political decision to accept another state does not depend on reforms only. Do not keep us on the reform hook. I support the reforms, I am trying to help the country to transform itself. But it makes me sad when they insist that we should carry out the reforms without telling the truth. For now, you do not want to accept us not because we are not ready, but because you are not ready," he said.
The Minister for Foreign Affairs noted that Ukraine continues to pursue the course of reforms since the welfare of its citizens depends on it. "I want to avoid any misunderstandings: we want reforms and we will implement them for the benefit of our country, we are not looking for excuses," Kuleba added.
For her part, Kersti Kaljulaid, President of Estonia, expressed an opinion that Ukraine was still far from meeting the criteria required for EU membership: without achieving them, meaningful negotiations on accession to the EU would be impossible.
"I am always trying to find confirmation that there are still opportunities for Ukraine, Georgia and Moldova to join the EU, if they are willing to do so. I have always been a very active supporter of this. But someone will say that this is a ridiculous position. It will take them light years to even meet the Copenhagen criteria," she said.
Kaljulaid called on Ukraine to pursue reforms more actively and on Europe to provide more support in this difficult process.
"I wish Ukraine could become an EU member one day. I very much hope that when the window of opportunity does open, Ukraine will be able to take advantage of it. We all know that this window only opens for a few hours. But the main prerequisite is that the Copenhagen criteria have to be met," she concluded.
←

Back to news list