The RF should decide: whether to be an EU partner or competitor – Jose Manuel Barroso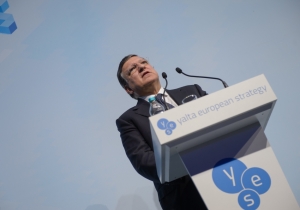 12 September 2014
Russia should decide: whether it wants to be a strategic partner or a strategic competitor to the European Union, said President of the European Commission Jose Manuel Barroso, the featured guest of the 11th Annual Meeting of the Yalta European Strategy (YES) on Friday evening in Kyiv.
"If Russia's choice is to be a competitor, a rival, then it should know what would be the political, economic and other implications", said Jose Manuel Barroso.
The European Commission President also pointed out that the gas price should be agreed, new contracts should be established. "Also, the transit system should be ensured", he added.
Jose Manuel Barroso stressed, "if the RF chooses the way of reform, the EU will be negotiating with it, and this may become a new brick in establishing new relations, and then, the future of the integrated European space – from Vladivostok to Lisbon – will become a reality.
Yalta European Strategy (YES) is the leading public diplomacy platform in Eastern Europe to develop strategies for Ukraine and Wider Europe and promote Ukraine's European integration. YES was established in 2004 by Ukrainian businessman and public figure Victor Pinchuk and is led by a distinguished board including President of Poland (1995-2005) Aleksander Kwasniewski, former Secretary General of NATO (1995-1999) and EU High Representative for Foreign and Security Policy (1999-2009) Javier Solana, and others.
The official Twitter of the 11th YES Annual Meeting: @YES_Ukraine, Hashtag: #YESUkraine2014
Special Partners of the 11th YES Annual Meeting include:
DTEK, ALFA-BANK (UKRAINE), BURISMA HOLDINGS
Partners of the 11th YES Annual Meeting are:
SHELL, INTERNATIONAL RENAISSANCE FOUNDATION
Media Partners of the 11th YES Annual Meeting are:
ICTV, UKRAYINSKA PRAVDA, NOVOYE VREMYA STRANY (NV), ERA FM
←

Back to news list