Taruta: Regions need more administrative autonomy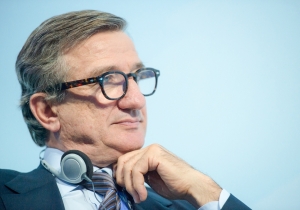 11 September 2014
The regions of Ukraine need more financial and administrative autonomy, said Sergiy Taruta, Head of the Donetsk Region State Administration at the opening reception of the 11th YES Annual Meeting, entitled, "New Ukraine, New Europe, New World: Building and Defending" last Thursday evening in Kyiv.
"I believe that all regions should enjoy special status, not only the Donbas. We have to transfer powers to the regions – and even to the local level right down to villages and districts, not just the regions – so that instead of seeking happiness in Kyiv or coming to protest in Kyiv, our people strive for reform at the local level. It will be of benefit to all our people to really think about who to elect, who offers them the most efficient management, what kind of police they need, and what sort of public administration would best suit them, he said.
He stressed the need for fast, decisive action to be taken, so as not to lose the momentum created by Maidan, and the change in government in Ukraine.
Taruta also told the audience, that the Donbas has split into two parts. "The Donbas has separated into a part under our control, where everything is quiet, and a part out of our control. There is a lot of suffering there, very severe destruction, and people dying at the hands of terrorists and gunmen", he said.
The Head of the Donetsk Region State Administration said that the world had to know the facts about what is happening in Ukraine. "We must make sure that we come out of this trouble stronger, that the region is not left in economic ruin. Our opponents do not really want any territory, rather they seek to destroy the key industrial centre of Ukraine, and leave us to weak to be able to attract inward investment and reform our country. This is their key objective. To make sure this does not happen, we need to make decisions quickly, to make the changes needed for political and economic reform, so that we can raise the capital funds we'll need to refurbish the country", stressed Taruta.
The official Twitter of the 11th YES Annual Meeting: @YES_Ukraine, Hashtag: #YESUkraine2014
Special Partners of the 11th YES Annual Meeting include:
DTEK, ALFA-BANK (UKRAINE), BURISMA HOLDINGS
Partners of the 11th YES Annual Meeting are:
SHELL, INTERNATIONAL RENAISSANCE FOUNDATION
Media Partners of the 11th YES Annual Meeting are:
ICTV, UKRAYINSKA PRAVDA, NOVOYE VREMYA STRANY (NV), ERA FM
←

Back to news list