Rasmussen: EU and Ukraine need a new milestone in their relationship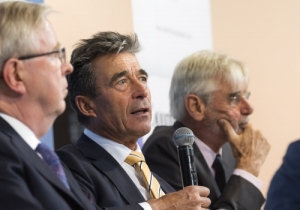 16 September 2017
New study published on prospects for an EU-Ukraine Customs Union
Proposing an EU-Ukraine Customs Union would create an incentive for further pro-European reforms in Ukraine, according to Ukrainian Presidential Adviser Anders Fogh Rasmussen.
Speaking at the annual YES Conference in Kyiv on Saturday, Mr Rasmussen argued that the EU and Ukraine have delivered major milestones in their relationship, including a comprehensive free trade agreement (FTA) and visa-free travel. These have helped steer Ukraine's reforms. However, he warned that EU leverage to keep the country's transformation and the FTA implementation on track will become less potent without a longer-term perspective, as it heads into an election period where populist forces will seek to make gains.
At the YES Conference, Michael Emerson of the Centre for European Policy Studies (CEPS) presented a study on options to sustain momentum in Ukraine's European integration process. Acceding to the EU's customs union is one of them, but Mr Emerson's study warns that a Customs Union would involve costs as well as benefits, which have to be carefully weighed.
Anders Fogh Rasmussen, former Prime Minister of Denmark and NATO Secretary General, said:
"With visa-free travel and a free trade deal the EU has shown Ukrainians that their hard-won reforms will pay dividends.
"The reform process must stay on the right track by laying down new milestones. An EU-Ukraine Customs Union cannot be delivered in the immediate future, but the prospect of greater economic integration will help Kyiv to implement the free trade agreement and overcome the vested interests standing in the way of reforms."
Dmytro Shymkiv, Deputy head of the Presidential Administration for reforms, said:
"Ukraine is committed to continuing along its European and reformist paths, and a Customs Union is the next logical step forward for both."
ENDS
NOTES: The full report is available to read at: http://bit.ly/2wVQczE 

Contact: Rasmussen Global Media office – [email protected] or 0032 473 861762
The online stream of the Yalta European Strategy (YES) 14th Annual Meeting will be available online at yes-ukraine.org as well as on the websites of our media partners, in both English and Ukrainian.
The official Twitter of the 14th YES Annual Meeting is @yes_ukraine, and participants and followers can include the hash tag: #YESUkraine2017
←

Back to news list