UK may regret its decision to withdraw from the EU within five years, Tony Blair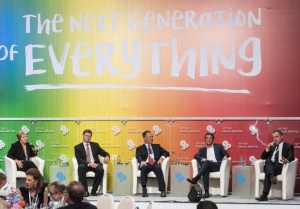 14 September 2018
The United Kingdom may regret its decision to withdraw from the EU within five years, says Tony Blair, former Prime Minister of the United Kingdom and Executive Chairman of the Tony Blair Institute.
"No need to discuss the enormous challenges that Europe has been facing these days. There is a migrati on challenge which can hardly be handled. There are also structural and political challenges of the Eurozone. But I will allow only one prediction: in five years, and we will see whether I was wrong, Europe will survive, Europe will flourish, and the UK will regret its decision on Brexit," Blair said, speaking at the 15th Annual Meeting of the Yalta European Strategy (YES) "The Next Generation of Everything", organized by the Victor Pinchuk Foundation.
Tony Blair reminded the audience that after World War II Europe united to maintain peace, but staying in the EU offers other important benefits.
"The key reason for Europe to get united after the Second World War was peace. We have had 60 years of peace which is a great achievement. However, the main objective for Europe today is to be powerful. In the middle of this century, there will be three giants – USA, China and, probably, India. They will be so much bigger than others that middle-sized countries like Germany or France will have to stand together to resist pressure. Now the goal is not just peace, but also capacity and power," added the former UK Prime Minister.
Tony Blair has agreed that the EU needs to be reformed, but in his opinion, this is not a sufficient reason to quit.
"Countries with the same democratic values ​​must stand together. Brexit is, of course, a major disturbance for Europe since an important political and economic player is leaving. Of course, it will be challenging. But I have no doubt that Europe will be better if the UK stays, and the UK will be better after we vote again and decide to return to Europe," the former Prime Minister summed up.
The Swedish Foreign Minister (2006-2014) and Prime Minister (1991-1994), Carl Bildt said that t despite the challenges outlined by Blair, the number of euroskeptics among European citizens has gone down.
"If we look into the polls held in Europe in the last two years, we will see that people support the EU more and more. Why? Is it because everyone fell in love with Jean-Claude Juncker, or with Brussels? I doubt it. I think that the reason for increasing support of the EU is, as I call it, the "PTB "– Putin-Trump-Brexit – effect. People understand that our world is much more complex. If one looks at this world one may see the revisionist Russia, and it scares people. We can see the United States tormenting here and there; we can see China, which is rising. In addition, there are events in the Middle East, and they are neighbors of Europe. There is population explosion in Africa. All this is of a tremendous transformational effect on us," he said.
Carl Bildt concluded by expressing confidence in the collective wisdom of Europe's citizens many of whom understand that it is impossible to overcome such challenges alone.
The official Twitter handle of the 15th YES Annual Meeting is @yes_ukraine, and participants and followers can include the hash tag: #YESUkraine2018
Partners of 15th YES Annual Meeting:
Arawak Energy, Hillmont Partners, lifecell, International Renaissance Foundation, Western NIS Enterprise Fund (WNISEF).
Media partners of 15th YES Annual Meeting:
Dzerkalo Tyzhnya (DT.UA), European Pravda, ICTV, Liga.net, Novoye Vremya Strany (NV), PRYAMIY Channel, Radio NV, The Kyiv Post.
←

Back to news list