The process of Ukraine's accession to the EU should be started already now – Bernard-Henri Levy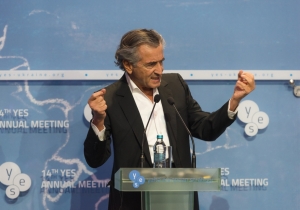 15 September 2017
The process of Ukraine's accession to the EU should start now, said Bernard-Henri Levy, philosopher, writer and director at La Règle du Jeu, at the 14th Yalta European Strategy (YES) Annual Meeting, organised by the Victor Pinchuk Foundation.
"I believe that the best way to react to the decline in the West is to get together and to make a strong step forward for Europe to embrace Ukraine, and for Ukraine to embrace Europe. I think that the issue of the starting of Ukraine's accession to the EU today is more urgent than ever", he said.
He added that "fresh blood" injected into the united Europe may give it a new life.
"Economy-wise, 45 million new European citizens is slightly more than 10% of the European population itself. This would be wonderful! Strategy-wise, if you look at the map of Europe, Ukraine could be the best shield, a profound strategy and protection for Europe", he stressed.
Levy also added that the country has many tasks to fulfill on the path towards Europe, including giving homage to the victims of the Holocaust.
"Much has to be done. Much has been done: last year represented the 75th anniversary of the mass killing of Jews at Babi Yar. This was a very, moving moment. But we all are looking forward to 2021 to unveil the official memorial", he said.
At the same time, the philosopher noted that the challenges that Ukraine is facing are no more difficult than those Turkey experienced when attempting to join the EU.
"Some weeks ago, the process of Turkey joining the EU was called a farce, a comedy, a mockery. I would like to say, "Goodbye Turkey, welcome Ukraine! Alas, goodbye Great Britain, welcome Ukraine!", concluded Bernard-Henri Levy.
The online stream of the Yalta European Strategy (YES) 14th Annual Meeting will be available online at yes-ukraine.org as well as on the websites of our media partners, in both English and Ukrainian.
The official Twitter of the 14th YES Annual Meeting is @yes_ukraine, and participants and followers can include the hash tag: #YESUkraine2017
←

Back to news list