Russia's offer on peacekeepers in Donbas contains elements harmful to Ukraine – US Special Envoy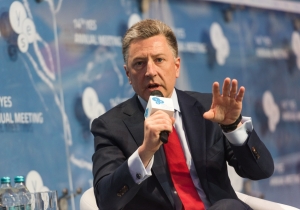 16 September 2017
Russia's proposals on the deployment of the UN peacekeepers mission in Donbas includes elements that are harmful to Ukraine, the US Department of State Special Envoy to the Ukraine peace talks, Kurt Volker, has said. However, these proposals may prove to be a starting point in reaching a compromise, Volker said at the 14th Annual Meeting of the Yalta European Strategy (YES), held by Victor Pinchuk Foundation.
"Specific features of what has been proposed would split Ukraine rather than produce anything useful. Nevertheless, the very fact that this proposal has been made is very interesting and it needs to be looked at. If we think of the international peace-keepers as replacement for the Russian army in terms of controlling heavy weapon and border control – this would be an essential step forward and will form the basis for implementation of the Minsk agreement", Volker said.
Volker also warned that when progress is achieved, Ukraine will also have to be ready to implement its political commitments.
"If an agreement regarding the peacekeepers is reached, this initiative will be implemented in the context of the Minsk agreements. This means implementation of Ukraine's sovereignty and territorial integrity in the country's east border. But this also means that Russia has to be certain about implementation of the political part of the Minsk agreements", Volker continued.
Volker revealed that he plans to have a meeting with the Russian President's Aide, Vladislav Surkov, in October to discuss the issue of Donbas.
Former Ukrainian President (1994-05), Leonid Kuchma, for his part, warned all parties of approving dangerous and illogical decisions regarding the deployment of the peacekeeping mission.
"We want this war to be over, we all support the deployment of peacekeeping helmets, whatever color they are. But we do not support the conditions when new borders are established to separate those [separatists-held] territories from Ukraine. The Blue Helmets should protect people, but, for God's sake, I've never heard of peacekeepers protecting other peacekeepers! Two cars with the OSCE mission are followed by two cars with the Blue Helmets – what is this? Does this look like protecting people or resolving the issue?", Kuchma said.
Kuchma also said it is important that the Ukraine-Russia border should be controlled by the peacekeepers if this mission is to be deployed.
"The border – a UN mission has to be there to block everything that is not supposed to come into Ukraine", Kuchma concluded.
The online stream of the Yalta European Strategy (YES) 14th Annual Meeting will be available online at yes-ukraine.org as well as on the websites of our media partners, in both English and Ukrainian.
The official Twitter of the 14th YES Annual Meeting is @yes_ukraine, and participants and followers can include the hash tag: #YESUkraine2017
←

Back to news list