Get rid of bureaucracy and all rubbish, and we will invest in Ukraine– Vitol President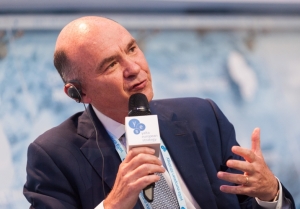 17 September 2016
Ukraine needs to get rid of bureaucratic obstacles, so that large transnational companies will feel able to invest, said President and Executive Director of Vitol, Ian Taylor, at the 13th Yalta European Strategy Annual Meeting (YES).
"Unfortunately, many big energy companies have left Ukraine and there is a reason why. When I talk to Shell and Chevron, they will tell you that Ukraine is still an incredibly difficult place to operate and it largely comes down to a tremendous amount of regulation. Soviet codes are still being used, for example, but the oil and gas industry has moved on," he said.

Ian Taylor also said that recent trends do not add to the optimism.
"What has been happening to Naftogaz in the last couple of days is concerning to foreign investors. Ukraine has fantastic potential but we have to be realistic: it will not attract investors unless the conditions are right. Get rid of the regulations and we will put more in, I promise!" he concluded.

In his turn, Deputy Head of the Presidential Administration of Ukraine, Dmytro Shymkiv, shared his view that Ukraine has shown substantial progress in deregulation over the past year.
"Last year we abolished 15 thousand Soviet standards; the regulation is going away. For example, in the agricultural business, there has been much simplification. Over the last three last years, the agricultural companies all over Ukraine have never complained about profits. They are actually more profitable, with numbers exceeding the shareholders' expectations," stressed Dmytro Shymkiv.

At the same time, President of Ukraine (1994-2005), Leonid Kuchma, gave a skeptical assessment regarding western investment in Ukraine.
"Foreign capital will not be invested. Even in the time of President Yuschenko, who was very much appreciated by the West, it's challenging to name a single joint project with the West. First of all we need to rely on ourselves and secondly we need to stop begging the outside world saying, 'we are so nice, please come and join us, we have such a potential'. Yes, the potential is there, but nobody believes in it yet," said Leonid Kuchma.
←

Back to news list