Striving to make people happier offers an alternative to old ideologies – Alexander Kwasniewski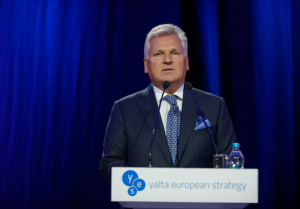 12 September 2019
A striving to make people's lives better and happier has offered a strong alternative to old ideological guidelines, the President of Poland (1995-2005), Chairman of the Board of YES, Alexander Kwasniewski, has said at the opening of the 16th Yalta European Strategy (YES) Annual Meeting "Happiness Now. New Approaches for a World in Crisis" organised by the Victor Pinchuk Foundation.
"We can be talking about happiness as a growing trend, the trend focusing on the extent to which people and countries in general are happy. As a certain alternative to traditional ideologies. This is indeed a new approach at the time when there are so many hardships and problems around us," he said.
Kwasniewski added that despite a large number of crises, we live in an exciting era. "A new chapter of Ukraine's history has begun today. In addition to new political leaders, we also have new expectations and hopes, as well as huge new opportunities for this amazingly beautiful country," the Сhairman of the Board of YES concluded.
←

Back to news list