Ukraine urgently needs judicial tools to prosecute corrupt officials – Volodymyr Groysman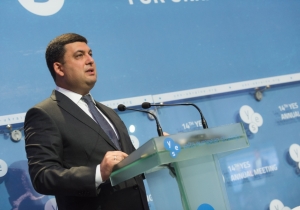 16 September 2017
Ukraine urgently needs to set up an efficient, independent judicial body to prosecute corrupt officials, Ukrainian Prime Minister, Volodymyr Groysman has said at the 14th Yalta European Strategy Annual Meeting organized by the Victor Pinchuk Foundation.
"We have the infrastructure to bring corruption down in Ukraine. We have laws which allow for effective performance. The only weakness is in the Ukrainian courts. I believe that we must quickly set up an instrument that enables the prosecution of corrupt officials. Whatever we name it – the Anticorruption Chamber or Anticorruption Court – is not important. What is important is to quickly set up a body which will be completely independent," the prime minister said.
He added that the government's main task is to ensure there is no opportunity for corruption during institutional transformation.
"Over the past year, we have undertaken a number of anticorruption measures: we have deregulated the energy sector, launched the state procurement system, ProZorro, introduced e-declaration, opened all of the databases, including on end beneficiaries, and initiated massive deregulation. Recently, we have cancelled 600 regulations which used to be the foundation of corruption," the prime minister added.
The online stream of the Yalta European Strategy (YES) 14th Annual Meeting will be available online at yes-ukraine.org as well as on the websites of our media partners, in both English and Ukrainian.
The official Twitter of the 14th YES Annual Meeting is @yes_ukraine, and participants and followers can include the hash tag: #YESUkraine2017
←

Back to news list