US political system remains stable under any president – Condoleezza Rice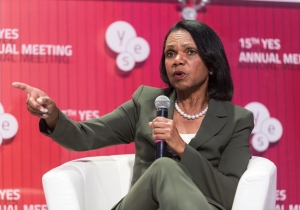 14 September 2018
The US political system is built in such a way that it remains stable and balanced under any president, said 66th U.S. Secretary of State, Condoleezza Rice, at the 15th Yalta European Strategy (YES) Annual Meeting themed "The Next Generation of Everything" and organized by the Victor Pinchuk Foundation.
"President Donald Trump is one of many actors within our political system. The US Founding Fathers – and this will be a good lesson to young democrats in Ukraine – were very cautious about the executive power. They provided for a system of checks and balances: a two-house parliament, the civil society, the press … This system is not one-person based, it is not relying on one person", she said.
At the same time, Condoleezza Rice believes that there is a range of issues in the United States that give grounds for populism and require addressing.
"The US has their own challenges. We are a polarized country where many citizens feel left beyond the new reality that has emerged due to globalization and automation", the 66th US Secretary of State admitted.
The official Twitter handle of the 15th YES Annual Meeting is @yes_ukraine, and participants and followers can include the hash tag: #YESUkraine2018
Partners of 15th YES Annual Meeting:
Arawak Energy, Hillmont Partners, lifecell, International Renaissance Foundation, Western NIS Enterprise Fund (WNISEF).
Media partners of 15th YES Annual Meeting:
Dzerkalo Tyzhnya (DT.UA), European Pravda, ICTV, Liga.net, Novoye Vremya Strany (NV), PRYAMIY Channel, Radio NV, The Kyiv Post.
←

Back to news list