Building a successful Ukraine requires effective protection of freedoms and property – Anatoliy Grytsenko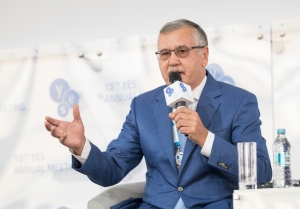 15 September 2018
Building a successful Ukraine requires an effective protection of citizens' rights, freedoms and property, believes Leader of Civil Position party and former Minister of Defence of Ukraine (2005-2007), Anatoliy Grytsenko.
"The State must not be one where one person plants seeds in the soil and another comes and takes the whole harvest away, with the police watching and smiling. We cannot be a State where the Government requests an $2bn loan from the IMF while people are keeping much more cash under their mattresses because they are afraid of bringing that money into banks", he said at the 15th Yalta European Strategy (YES) Annual Meeting themed "The Next Generation of Everything" and organized by the Victor Pinchuk Foundation.
Grytsenko stressed that in order to protect citizens' rights, fair justice should be put in place in the first instance, the anti-corruption bloc function should be improved, the Anti-Monopoly Committee should be reformed and boosted, and the State's monopoly over use of force should be restored.
"We must protect rights, freedoms and property… There is no democracy without a sound economic base", concluded Leader of Civil Position party.
The official Twitter handle of the 15th YES Annual Meeting is @yes_ukraine, and participants and followers can include the hash tag: #YESUkraine2018
Partners of 15th YES Annual Meeting:
Arawak Energy, Hillmont Partners, lifecell, International Renaissance Foundation, Western NIS Enterprise Fund (WNISEF).
Media partners of 15th YES Annual Meeting:
Dzerkalo Tyzhnya (DT.UA), European Pravda, ICTV, Liga.net, Novoye Vremya Strany (NV), PRYAMIY Channel, Radio NV, The Kyiv Post.
←

Back to news list