Russian Elites to Split After Putin Steps Back From Power- Michael McFaul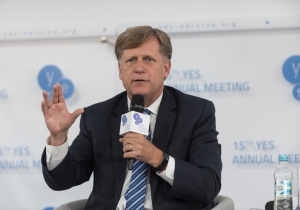 15 September 2018
The Russian elites will split after President Putin leaves his office and the transfer of power to another will not be a smooth process, the former U.S. Ambassador to the Russian Federation (2012-14), Professor at the Stanford University and Senior Fellow at Hoover Institute, Michael McFaul, has said.
"It would not be correct to say that they are united. When the post-Putin era begins, do not expect all the elites to behave in the same manner. I think we should expect a big fight. Also, some of theses people, who did not like the path taken, will start questioning: are we going the right way? … I think there will be a split in the elite", McFaul said addressing the 15th Yalta European Strategy (YES) Annual Meeting themed "The Next Generation of Everything" and organized by the Victor Pinchuk Foundation.
McFaul added that an attempt to hand over the power to other members of the security agencies will not gain support from all the members of the Russian elite. "The Russians won't go for Bortnikov or Patrushev. There were twenty years of "Putinism", and now they promise another twenty years of the same course but without that charisma and luck Putin has had? I think it would be very difficult to hand over the reins of power to the security agencies", McFaul concluded.
The official Twitter handle of the 15th YES Annual Meeting is @yes_ukraine, and participants and followers can include the hash tag: #YESUkraine2018
Partners of 15th YES Annual Meeting:
Arawak Energy, Hillmont Partners, lifecell, International Renaissance Foundation, Western NIS Enterprise Fund (WNISEF).
Media partners of 15th YES Annual Meeting:
Dzerkalo Tyzhnya (DT.UA), European Pravda, ICTV, Liga.net, Novoye Vremya Strany (NV), PRYAMIY Channel, Radio NV, The Kyiv Post.
←

Back to news list