Petro Poroshenko urges Ukrainian politicians to drop populism for country's future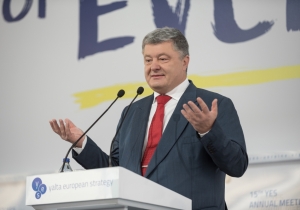 14 September 2018
Politicians in Ukraine need to drop populism and unfeasible promises for the sake of the country's future, Ukrainian President, Petro Poroshenko has said at the 15th Yalta European Strategy (YES) Annual Meeting "The Next Generation of Everything", organized by the Victor Pinchuk Foundation.
"My personal experience taught me that it is important to be very careful and responsible about what you promise people. Over four years ago, I said that the antiterrorist operation (ATO) will take hours, not months. I would like to say this once again, I am sorry for creating inflated expectations. Therefore, several weeks ago I apologized for giving a hope that had not come true, for giving a promise that had not been met. I apologized for this," he said.
Poroshenko pointed out that this negative experience could be useful to all Ukrainian politicians in the future.
"The point is for this story to be a lesson not only for me but for all politicians in Ukraine. I am calling for real action programs, not fantastic promises of manna from heaven, promises of the moon, sunshine and rainbows. I am calling on you not to destroy the country, not to destroy it with populism. You should make a sober assessment of the unprecedented level of challenges Ukraine is facing now," Poroshenko said.
The president then urged Ukrainians to close ranks to ensure Ukraine's course for European and democratic development remains unchanged.
"To respond to all challenges and threats, we should make a very responsible choice when we need to elect not only the president but a whole new parliament. It is very important to confirm our unwavering pro-European, independent and state course. I have no doubt that we will see just this," he concluded.
The official Twitter handle of the 15th YES Annual Meeting is @yes_ukraine, and participants and followers can include the hash tag: #YESUkraine2018
Partners of 15th YES Annual Meeting:
Arawak Energy, Hillmont Partners, lifecell, International Renaissance Foundation, Western NIS Enterprise Fund (WNISEF).
Media partners of 15th YES Annual Meeting:
Dzerkalo Tyzhnya (DT.UA), European Pravda, ICTV, Liga.net, Novoye Vremya Strany (NV), PRYAMIY Channel, Radio NV, The Kyiv Post.
←

Back to news list