Rewriting history is one of the favorite instruments of tyrants and populists, Bernard-Henri Levy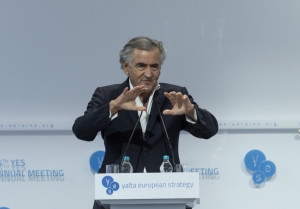 14 September 2018
One of the favorite and effective instruments in the inventory of modern tyrants and populists is rewriting the past, believes philosopher and writer Bernard-Henri Levy.
"There is a very interesting quote by George Orwell: "History is a book on a night table of tyrants." He meant that one of the key goals, and perhaps even the ultimate objective and the most effective instrument of tyrants, was to interfere not only with the course of history, but also with the history that was being taught. He was right – all totalitarian states can see this paradigm and act just in line with it," said Bernard-Henri Levy at the 15th Annual Meeting of the Yalta European Strategy (YES) "The Next Generation of Everything" organized by the Victor Pinchuk Foundation.
Bernard-Henri Levy added that that was the way, for instance, the current Russian leadership acted.
"If you look into what is happening in this country, into the war that Russia has unleashed against Ukraine, you will see that Putin attacked not only with his military troops, but also by manipulating the truth ... Putin is the president of Russia, commander-in-chief, but he is also the chief historian, chief journalist, and a man who tries, at any price, to erase, reprint, and rewrite the history," he said.
The official Twitter handle of the 15th YES Annual Meeting is @yes_ukraine, and participants and followers can include the hash tag: #YESUkraine2018
Partners of 15th YES Annual Meeting:
Arawak Energy, Hillmont Partners, lifecell, International Renaissance Foundation, Western NIS Enterprise Fund (WNISEF).
Media partners of 15th YES Annual Meeting:
Dzerkalo Tyzhnya (DT.UA), European Pravda, ICTV, Liga.net, Novoye Vremya Strany (NV), PRYAMIY Channel, Radio NV, The Kyiv Post.
←

Back to news list