The winners of educational programs of the Victor Pinchuk Foundation took part at the 8th Yalta Annual Meeting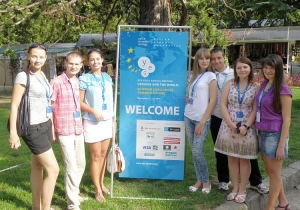 28 September 2011
Twenty three Zavtra.UA scholarship holders and five winners of the WorldWideStudies competition took part in the 8th Annual Meeting of Yalta European Strategy (YES) held September 15 -18, 2011, in Livadia palace, Yalta.
During the forum, students had an opportunity to communicate with top politicians, businessmen, scholars and public activists, including Member of the Deutsche Bank Executive Committee Jürgen Fitschen, President of PACE Mevlüt Çavusoglu, leader of the "Front Zmin" political party Arseniy Yatsenyuk, leader of the UDAR political party and member of Kyiv City Council Vitaly Klitschko, and others. Young scholars followed all Forum discussions, listened to the speeches of the President of the State of Israel Shimon Peres at the opening of the Annual Meeting and the winner of the Nobel Prize 2008 in Economics Paul Krugman.
Yulia Ovchynnikova, Zavtra.UA scholarship winner: "Meetings with participants of the Annual Meeting of YES left very bright impressions on me. We had a unique chance to hear effective advices and lay a foundation for further cooperation with Forum participants".
Valeriy Vakariuk, Deputy Head of the Board of the Victor Pinchuk Foundation: "We regularly invite our scholarship holders to public events organized by the Foundation and offer them additional opportunities to communicate with successful people. Educational programs and participation in conferences inspire students to develop further, and offer them positive role models."
For the third consecutive year the winners of the scholarship programs of the Victor Pinchuk Founfation join Annual meetings of YES. In the previous years they met with the 42nd President of the US Bill Clinton, Prime Minister of Great Britain (1997-2007) Tony Blair, 7th Secretary General of the UN Kofi Annan and many others.
←

Back to news list