School years should nurture creative potential – Anna Novosad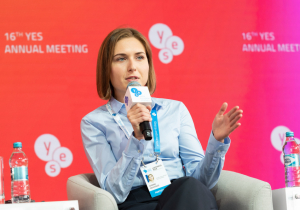 14 September 2019
Children's years at school years should be aimed at developing creative personalities capable of making conscious choices of their own, Anna Novosad, Ukrainian Education and Science Minister said when speaking at the 16th Yalta European Strategy (YES) Annual Meeting, "Happiness Now. New Approaches for a World in Crisis", organised by the Victor Pinchuk Foundation.
"Only recently in Ukraine have we started to see discussions about what children should be taught in schools. This is still up for debate, and should be decided as a nation. What I know for sure is that children that have the freedom to make their own choices will be happy," Novosad said
Novosad made the point that unlike in countries that rate highly on the happiness index give children a choice about what they can learn, whereas the current Ukrainian school system makes no provision for children to choose their preferred subjects.
"It is quite rare that we ask children for feedback as part of the education process, we leave them no chance to choose the subjects they want to learn or to develop their personal path. If we don't allow children to do this, we won't have conscious citizens who will continue making conscious choices in life." Novosad said.
The relationship between school children and teachers also needs to change, said Novosad. "The Ukrainian school system still contains negative features inherent in the Soviet system, such as fear, of teachers and directors. If we do not take away this fear it will stunt all creative potential." Novosad said in conclusion.
←

Back to news list