Oleg Sentsov calls for President Zelensky to fight for the urgent release of Ukrainian prisoners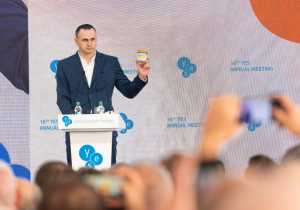 13 September 2019
Film director Oleg Sentsov, who was recently released from Russian captivity, has called for the President of Ukraine, Volodymyr Zelenskyy, to fight for the urgent release of all Ukrainian prisoners. This was the key message of his speech at the 16th Yalta European Strategy (YES) Annual Meeting "Happiness Now. New Approaches for a World in Crisis", organised by the Victor Pinchuk Foundation.
"I had a small jar in prison, and I had two notebooks, one blue and one yellow. I cut a strip from each notebook and stuck them to my jar with the words 'Glory to Ukraine'. I took this jar with me to all the prisons I was put into in Russia. I treasured it as a statement of my resistance. Prisoners are also often given a card with a red stripe that signifies to guards that the prisoner at high-risk of escape. After I was released I put my prisoner card in the precious jar. I urge the President to fill this jar with the badges of all those still held captive in Russia, Donbas and Crimea. Mr President, get the jar full as soon as possible!" Sentsov said.
President Zelenskyy, for his part, answered that he would do his very best to fill this jar and see all Ukrainian captives released as soon as possible. He said that he was very happy to see Sentsov and the other 34 Ukrainians freed earlier this month.
"I am happy that our guys have come back from Russia and have returned to their families, parents and children… however this is not all of them. I will do my best to get this jar full," the President said.
←

Back to news list