We should widen understanding of what Europe is – Jagland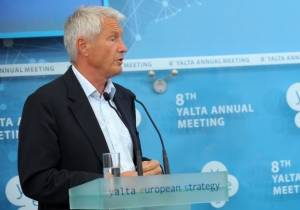 17 September 2011
Commitment to freedom and human rights is one of the key forces in modern society, Secretary General of the Council of Europe Thornbjorn Jagland said in the course of discussing human right and democracy in wider Europe at the 8th Yalta Annual Meeting of YES.
"Economic changes and technological revolution have been the greatest transformative force in Europe after the second world war. At the same time, commitment to freedom and human rights was very important," Jagland said emphasizing that these values remain the engine of many modern processes. "Young people in the Northern Africa go to the streets not because they want radical Islam, but because they want universal political rights." Jagland believes these processes are victory of the European values and one of key historic trends. "Political systems, which are not built on the principle of separation of powers, on the principle of control over governments cease to exist."
Today Europe faces serious challenges - growing poverty due to the exacerbation of the economic crisis is the first of them. "We even started to talk about the lost generation since the youth can't find jobs. But it is even more dangerous that the growing poverty these days is accompanied by xenophobia attitudes, in particular, anti-Islamic attitudes," Thornbjorn Jagland emphasized.
The Secretary General of the Council of Europe believes this situation is a serious challenge for European values. Therefore, it is important for European states to address the problem of growing diversity. "When the Prime Minister of Great Britain talked about the failure of multiculturalism policy, he was against creation of "states in the state", "societies in the society". That is really true that there are several parallel societies in European countries and these societies do not cross. Muslims live in their own world. Young xenophobes – in their virtual world. The matter is to understand how to live in real world. Not only live, but also use this growing diversity for benefit of the European community development,"
Thornbjorn Jagland said.
At the same time, according to the Secretary General of the Council of Europe, understanding what Europe is should be extended and the EU should think over how to help its neighboring countries. According to Jagland, this would help to resolve some internal problems of the European Union as well. "The more European values will be in the East European countries, the easier we will cope with immigration challenges," he said.
The 8th Yalta Annual Meeting entitled "Ukraine and the World: Common Challenges, Common Future", organized by the Yalta European Strategy (YES) in partnership with the Victor Pinchuk Foundation, takes place in Livadia Palace, Ukraine from 15th to 18th of September 2011.
Special Partners:
Alfa-Bank Ukraine
TNK-BP
Partners:
Visa Inc.
International Renaissance Foundation
ONUR
Communication Partner:
Kyivstar
Media Partners:
Euronews
ICTV
Korrespondent magazine
Korrespondent.net
ERA FМ
←

Back to news list