We need to persuade China to change attitude on North Korea – Cameron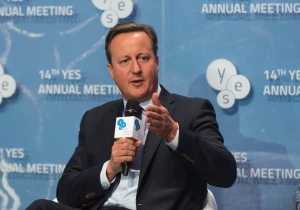 15 September 2017
European countries and the USA have to be more active in persuading China to change its policy towards the North Korean government, former British Prime Minister, David Cameron (2010-16) has said. Cameron was speaking at the Yalta European Strategy (YES) 14th Annual Meeting, held by Viсtor Pinchuk Foundation.
"We have to work to make China change its attitude to what Kim Jong-un is doing. On the one hand, they should see what an unstable and dangerous neighbor they have, and on the other hand the North Korean policy leads to increasing the number of US troops in the region", Cameron said.
Cameron also said that the North Korean nuclear bomb tests contaminate China's territory.
Former US Secretary of Defence, Robert Gates (2006-11), said for his part that the North Korean aggressive policy is partially aimed at China itself, who continue to provide economic support to Kim Jong-un.
"What Kim Jong-un is doing is partially aimed at China, just in the same manner as it is aimed at us. I believe China is able to make him do things he does not like. We need to explain to China that we would need to increase our defence measures against North Korea and this is going to be a threat for them as well, at least this is how they would take it", Gates said.
The online stream of the Yalta European Strategy (YES) 14th Annual Meeting will be available online at yes-ukraine.org as well as on the websites of our media partners, in both English and Ukrainian.
The official Twitter of the 14th YES Annual Meeting is @yes_ukraine, and participants and followers can include the hash tag: #YESUkraine2017
←

Back to news list