YES Board discussed with Ukraine's leaders how to promote the country and support change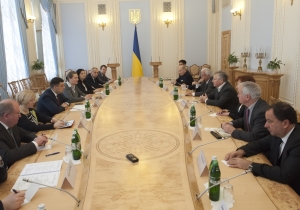 03 April 2015
On April 1-2, the Board of YES (Yalta European Strategy) has visited Kyiv.
Among others the Board held meetings with Prime Minister of Ukraine Arseniy Yatsenyuk; Chairman of the Parliament of Ukraine Volodymyr Groysman; Minister of Foreign Affairs of Ukraine Pavlo Klimkin; members of Parliament of Ukraine from The Interfactional Union "Eurooptimists".
The YES Board was represented by Aleksander Kwasniewski, President of Poland (1995-2005), Chairman of the Board; Mario David, Vice-President of the European People's Party; Victor Pinchuk, Founder of Yalta European Strategy; Jean-Pierre Saltiel, President Rothschild Сonseil International (1998-2004); Alexander Rahr, Research Director, German-Russian Forum and Stephane Fouks, Vice President of "Havas Group."
The YES Board has previously met young Ukrainian MP's, businessman and civic leaders in January 2015 in Davos (in the follow-up to the Ukrainian Breakfast organized by the Victor Pinchuk Foundation and international investment advisory group EastOne at the occasion of the Annual Meeting of the World Economic Forum).
YES has been a platform for presenting Ukraine to the world, and for a dialog of political forces in Ukraine since 2004. It is the leading public diplomacy platform in Eastern Europe to promote Ukraine's European integration and develop strategies for Ukraine and Wider Europe. The YES Annual Meetings have brought together world leaders to Ukraine and hosted many important exchanges between representatives of Ukraine, the EU, the Russian Federation, the US and beyond, as well as between the Ukrainian government and opposition. They have been held in the historical Livadia Palace in Yalta from 2004 to 2013, and in Kyiv since 2014 after Crimea had been annexed by the Russian Federation. YES was established in 2004 by Victor Pinchuk and is led by a board including President of Poland (1995-2005) Aleksander Kwasniewski, Secretary General of NATO (1995-1999) and EU High Representative for Foreign and Security Policy (1999-2009) Javier Solana, and others.
---
Watch the Gallery: YES Board visits Kyiv
←

Back to news list