International sanctions against Russia must be maintained until peace is restored – Volodymyr Zelensky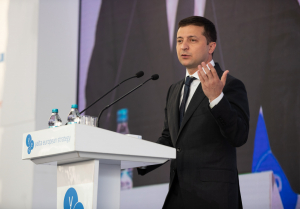 13 September 2019
International sanctions against Russia must be maintained until peace is restored, said President of Ukraine, Volodymyr Zelensky as he gave the opening guest speech of the 16th Yalta European Strategy (YES) Annual Meeting, "Happiness Now. New Approaches for a World in Crisis", organised by the Victor Pinchuk Foundation.
"We must end the war and get our territories back. But, and I have said this many times, the only way to do this is by using diplomacy. Sanctions are powerful and effective weapons of diplomacy. I have said it time and again to all our international partners – they help us a lot, and I am very grateful for that - but they are thinking of lifting the sanctions. You are losing money there, seriously? Well, sorry – we are losing people here! Paying taxes, including for maintaining order, is normal in the civilized world. Sanctions are, in fact, like taxes, rigid ones, that are required to preserve world order. Sanctions are a "peace" tax, if you will. And until peace is restored, the sanctions must be maintained," he said.
Volodymyr Zelensky added that the restoration of peace is the first and foremost condition for Ukraine to become a happy country. But that it is not the only thing the country needs.
"What does a country need for happiness? It is simple: fighting down enemies is not just about geopolitics. I am talking about the enemies of Ukraine's happiness, namely war, poverty, corruption, and, I beg your pardon, envy. What is our vision of a happy Ukrainian family? Having all the family members sit around one table with no empty chairs, this is what is the most important. Those whose seats are empty because they bravely defend Ukraine, must come back as victors and take their places at the table… Our next challenge is to overcome poverty, return Ukrainian workers from abroad, and fill another empty chair at the family table," he said.
Volodymyr Zelensky stated that in order to persuade our smart and hardworking people back to Ukraine, there must be stable economic growth and unshadowing of the economy. This, in turn, he said, is not possible without fighting corruption and smuggling, and establishing the rule of law.
"Economic growth must be inclusive, which means all our citizens should feel the positive effects of it, rather than just a few families across the country," concluded the President of Ukraine.
←

Back to news list