Politicians' Mission is Improving Comfort and Quality of Life – Vitali Klitschko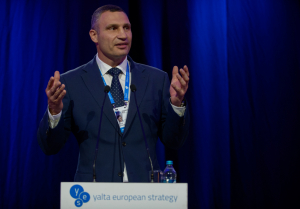 12 September 2019
The main priority and criterion of success of any politician is improvement of comfort and quality of life of people, said Kyiv mayor Vitali Klitschko at the opening of the 16th Yalta European Strategy (YES) Annual Meeting, "Happiness Now. New Approaches for a World in Crisis", organized by the Victor Pinchuk Foundation.
"How is the government supposed to act to make people feel happier? First of all, it means ensuring high standards of life and social security, a possibility to enjoy modern infrastructure and transport, get quality education and medical services. These are the main priorities for every politician", he said.
Vitali Klitschko added that the best reward for him is when people around are becoming happier, and they are inspired by changes in life of the city and of the country.
The capital's mayor also thanked everybody for sharing the same values and supporting Ukraine on its path. "Many visitors from across the world have come today to Ukraine, to our city, and I want to thank all friends of Ukraine and all those who use their knowledge, their experience and energy to help. All those who want to see Ukraine as a modern, democratic European country", Vitali Klitschko summarized.
←

Back to news list