No life lost to military conflict in Ukraine over past 24 hours, for first time in 18 months - Petro Poroshenko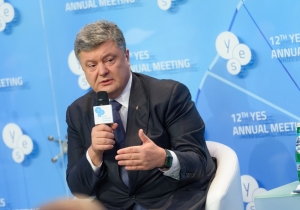 11 September 2015
For the first time in the past year-and-a-half, Ukraine has not suffered any deaths over the past 24 hours, signaling hope for a true peace, Ukrainian President Petro Poroshenko said in his speech on the first working day of the 12th Yalta European Strategy (YES) Annual Meeting in Kyiv.
"The ceasefire has been observed effectively for more than two weeks now," Poroshenko said. "Today is the first day in the past year and a half that we have not had any losses or exchanges of fire during a 24-hour period. I congratulate you on this great day!"
Poroshenko added that the recent Normandy Format talks, held two days ago, also provided reasons for reserved optimism. At the same time, he added, the range of measures envisaged by the Minsk Agreements needs to be implemented in full by year-end.
"I am asking Leonid Kuchma, my representative at the Trilateral Contact Group, to withdraw the earlier statement to the effect that the Minsk process could be continued in 2016. No, everyone must meet their obligations in 2015, because Ukraine is paying too steep a price," he said.
Poroshenko noted that Ukraine should still be prepared for any developments, because Russia's behaviour was impossible to predict.
"It took us just one year to create one of the most powerful and courageous armies on the continent," he said. "We will increase the country's military budget next year for the purpose of efficient and decisive counteraction to external threats. That said, our army's sole objective will continue to be the protection of Ukraine from any external aggression."
The 12th Yalta European Strategy Annual Meeting will be streamed live at yes-ukraine.org as well as web-sites of the Media Partners in English and Ukrainian.
The official Twitter of the 12th YES Annual Meeting is @yes_ukraine, and participants and followers can include the hashtag: #YESUkraine2015.
←

Back to news list