Stephan Fule: Maydan has reminded all of us that the value of democracy may never be underestimated, and that sometimes one has to defend it hard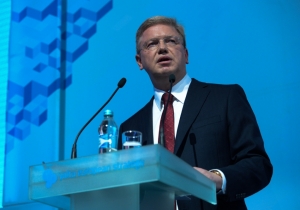 11 September 2014
Speaking at the opening reception of the 11th YES Annual Meeting in Kyiv, European Commissioner for Enlargement Stephan Füle said he believes the EuroMaidan movement reminded the citizens of the European Union about the value of democracy and the need to defend it.
"And what does Maidan mean? First of all it is about the dignity of the people… They came to manifest their desire for a better future for their country, a future without corruption, a future where the rule of law and human rights are respected… Maidan also happened at a time when some in the European Union were expressing their scepticism about the value of the European Union and European integration… Maidan reminded all of us that the value of democracy should never be underestimated, and that sometimes one has to defend it hard", he said.
Commissioner Füle went on to stress that Ukraine's decision to deepen its relationship with the EU was and is the State's sovereign choice, but that, instead of supporting that choice, Russia had decided to move to confrontation, thus "having created the gravest crisis in Europe since the end of World War Two".
"We have witnessed economic pressure, threats and an overt military aggression that was intended to convince the Ukrainian people to veer away from taking new opportunities, and also to convince us that the Ukrainians' freedom of choice should not be defended. It was supposed to convince us to abandon our policy, our values and principles and to accept the logic of spheres of influence. However, this would have meant ignoring the lessons learnt from the last century", he continued.
According to Füle, "the European house has been damaged, and it is time to repair it. Not at someone's expense, but with everyone being involved".
Also, he stressed that the EU has not forgotten that in its annexation of Crimea, and actions in Eastern Ukraine, Russia has breached international law. The Commissioner reiterated that the European community would keep to the established course of international policy regarding Russia, until international law is fully restored.
The official Twitter of the 11th YES Annual Meeting: @YES_Ukraine, Hashtag: #YESUkraine2014
Special Partners of the 11th YES Annual Meeting include:
DTEK, ALFA-BANK (UKRAINE), BURISMA HOLDINGS
Partners of the 11th YES Annual Meeting are:
SHELL, INTERNATIONAL RENAISSANCE FOUNDATION
Media Partners of the 11th YES Annual Meeting are:
ICTV, UKRAYINSKA PRAVDA, NOVOYE VREMYA STRANY (NV), ERA FM.
←

Back to news list