Kwasniewski Supports Decentralization in Ukraine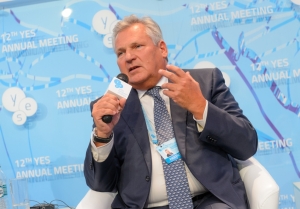 12 September 2015
Ukraine needs decentralization not only because of its democratic ambitions, but also because of the country's size, Aleksander Kwasniewski, President of Poland (1995-2005), said today during his closing remarks at the 12th Yalta European Strategy (YES) Annual Meeting in Kyiv.
"If you want to be a democratic state, you need to decentralize yourself... If you want to govern the country effectively, you need to perform decentralization. Say yes to decentralization. It is good that the process has started and you need to bring it to its logical end. Decentralization means a civil society, which is much more developed in Ukraine than in Russia or Belarus," Kwasniewski, who serves as chairman of the YES Supervisory Board, said during the panel discussion entitled "Decentralization – Panaceas and Trojan Horses."
Kwasniewski added that the provisions stipulated by the draft Constitution for Donetsk and Luhansk regions may seem unpleasant for some part of Ukrainians, but they are crucial for the country.
"We know very well that decentralization and special status of two regions are part of the Minsk agreement. It is rather the only realistic way to solve the problem. In such a way, decentralization is bringing a risk that Kyiv will not control these regions in the future. But let's have a look at the middle-term scenario under which Ukraine develops as a democratic state, with good economy and civil society, then voters in Donbas will have an alternative: to accept the authoritarian model imposed by Moscow or this democratic model," he said.
Kwasniewski also advised that Ukraine take a critical approach to using Polish or other models of decentralization, since they were developed under specific circumstances.
This news is avaliable now in Ukrainian.
The 12th Yalta European Strategy Annual Meeting will be streamed live at yes-ukraine.org as well as web-sites of the Media Partners in English and Ukrainian.
The official Twitter of the 12th YES Annual Meeting is @yes_ukraine, and participants and followers can include the hashtag: #YESUkraine2015.
←

Back to news list