People's Awareness of Video Synthesis is Best Way to Counteract Deep Fake – John Gibson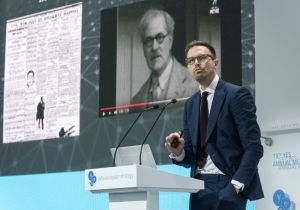 14 September 2018
The best tool to counteract the effect of deep fakes – fake pictures generated with artificial intelligence's support – is raising people's awareness of the capabilities of the modern video and audio synthesis systems, ASI Data Science Director, John Gibson said. Gibson was speaking at the 15th Yalta European Strategy (YES) Annual Meeting, organized by the Victor Pinchuk Foundation.
"The genie was let out of the bottle. I think technologies will be improving and no government will be able to control it. Instead, it's better to focus on solutions mitigating the effect of this type of disinformation. It is necessary to help people to perceive political context.In this context, a website can be created where anyone can make video with historical figures saying whatever a user wants them to. For instance: Margaret Thatcher greeting the user's daughter on her birthday", John Gibson said.
According to the ASI Data Science Director, deep fake technologies are still far from perfect, however, they are developing rapidly.
"I think it would be right to assume that video synthesis of this type will be easily available as early as in a few years from now, and any technically skilled person can create a politician. And any politician, who realized he said something wrong, would claim it were an algorithm, - Gibson said.
Gibson was also certain that this technology will be made accessible to general public, it not strictly reserved for the sole use of large corporations or military programs.
The official Twitter handle of the 15th YES Annual Meeting is @yes_ukraine, and participants and followers can include the hash tag: #YESUkraine2018
Partners of 15th YES Annual Meeting:
Arawak Energy, Hillmont Partners, lifecell, International Renaissance Foundation, Western NIS Enterprise Fund (WNISEF).
Media partners of 15th YES Annual Meeting:
Dzerkalo Tyzhnya (DT.UA), European Pravda, ICTV, Liga.net, Novoye Vremya Strany (NV), PRYAMIY Channel, Radio NV, The Kyiv Post.
←

Back to news list