Corruption kills more children than HIV or malaria - Bono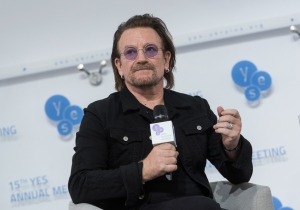 15 September 2018
Corruption destroys developing regions: Europe should pay more attention to solve this problem [corruption], said U2 frontman, Bono, at the 15th Yalta European Strategy (YES) Annual Meeting themed "The Next Generation of Everything" and organized by the Victor Pinchuk Foundation.
"Corruption kills more people in Africa than HIV/AIDS or malaria. But there is a vaccine against that: it is called transparency, open governance and civil society", Bono said.
The U2 lead singer highlighted the important role of new technologies in fighting corruption.
"ІТ provide conditions that make it hard to hide corruption. This is why I am passionate about this youth movement: this makes hiding more and more difficult ", he said.
The official Twitter handle of the 15th YES Annual Meeting is @yes_ukraine, and participants and followers can include the hash tag: #YESUkraine2018
Partners of 15th YES Annual Meeting:
Arawak Energy, Hillmont Partners, lifecell, International Renaissance Foundation, Western NIS Enterprise Fund (WNISEF).
Media partners of 15th YES Annual Meeting:
Dzerkalo Tyzhnya (DT.UA), European Pravda, ICTV, Liga.net, Novoye Vremya Strany (NV), PRYAMIY Channel, Radio NV, The Kyiv Post.
←

Back to news list