Kersti Kaljulaid Joins the Board of Yalta European Strategy (YES)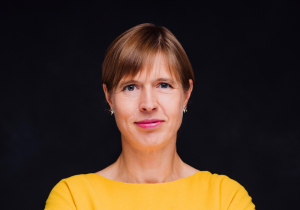 01 November 2021
Yalta European Strategy (YES) is pleased to announce that Kersti Kaljulaid, President of Estonia (2016-2021), United Nations Secretary-General's Global Advocate for Every Woman Every Child, has joined the YES Board.
The YES Board is chaired by Aleksander Kwaśniewski, President of Poland (1995-2005), and consists of the following members: Carl Bildt, Minister for Foreign Affairs of Sweden (2006-2014), Prime Minister of Sweden (1991-1994); Stephane Fouks, Vice President of Havas Group, Executive Co-Chairman of Havas Worldwide; Wolfgang Ischinger, Ambassador, Chairman of the Munich Security Conference, Senior Professor, Hertie School of Governance; and Victor Pinchuk, Founder and Member of the Board, YES and Founder of the Victor Pinchuk Foundation and EastOne group; Anders Fogh Rasmussen, Founder of Rasmussen Global, Secretary General of NATO (2009-2014), Prime Minister of Denmark (2001-2009).
Kersti Kaljulaid served as the President of the Republic of Estonia from 2016-2021. During her time in office, she made her presence felt in both her homeland and the international arena.
Previously she had been serving as a Member of the European Court of Auditors, advising Prime Minister Mart Laar and holding diferent top level positions in energy, investment banking and telecom sector. Genetic engineer and economist by education, she has been a member of the Supervisory Board of the Estonian Genome Center and the Council Chair of the University of Tartu from 2012 to 2016.
In summer 2021, UN Secretary-General Antonio Guterres appointed President Kaljulaid to the position of Global Advocate for the 'Every Woman Every Child' strategy on the health and well-being of women, children and adolescents around the world for the next two years. She was also the first Estonian to be featured in the Forbes World's 100 Most Powerful Women.
Kersti Kaljulaid has become a sought-after speaker at high-level forums on digital, security and foreign-policy topics and more broadly for analysing and interpreting societal and economic change.
President Kaljulaid is a vocal advocate of human rights, rule of law, freedom of speech and democracy. One of the principles in office of president has been the one she set out upon her inauguration: "I am never silent when our security is in question, when our freedoms are at stake or when those weaker than us are treated unjustly."
←

Back to news list