Carl Bildt: Reforms to Help Ukraine Make Use of Modern World Prospects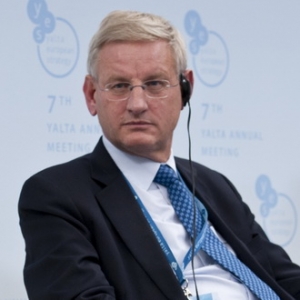 02 October 2010
Ukraine should consider various integration models. But the internal reforms are the main thing in achieving success in the contemporary globalized world.
This idea was expressed by Carl Bildt, the Minister of Foreign Affairs of Sweden, in his speech "Paths to Ukraine's Future – What Change Do We Need?".
"Ukraine does have its potential. But you need such changes in the country that would be adequate to the scope of changes all over the world", - he emphasized. – "You should learn how to interact in the world in which an extreme interdependence reigns".
Carl Bildt named Turkey as example, a country, which as far back as 20 years ago was under strong centralized control and had a monopolized economy. "But over 20 years they have made a progress in their economic and political way. They have entered customs union with EU and become deeply integrated with European Union without being its member. At the moment they are having their growth of 10%, and the trends impress. They have neither oil and gas nor other resources. But they do have a political talent to understand a demand for globalization and undertake its challenges", - Carl Bildt brought it into focus.
Media Partners:
Euronews
"Korrespondent"
Special partners of the 7th Yalta Annual Meeting:
DCH
Kyivstar
International Renaissance Foundation
Partner of the 7th Yalta Annual Meeting:
Nemiroff
←

Back to news list