Carl Bildt has joined the Board of Yalta European Strategy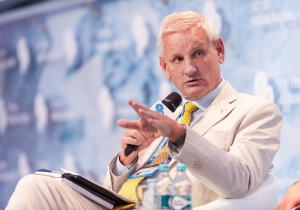 13 December 2016
The Yalta European Strategy (YES) is pleased to announce the appointment of Carl Bildt, Minister for Foreign Affairs of Sweden (2006-2014), Prime Minister of Sweden (1991-1994) and member of the International Advisory Council under the President of Ukraine, as a new member of the YES Board.
Commenting on the new appointment YES founder and member of the Board Victor Pinchuk said: "We are delighted to welcome Carl Bildt to the Board. With his unique blend of skills and extensive experience in foreign affairs, he will be a great addition to the Board in supporting YES' mission to integrate Ukraine with the Europe and the world".
In February, 2016, YES welcomed the Ambassador Wolfgang Ischinger, Chairman of the Munich Security Conference, to the Board.
The YES Board is chaired by President of Poland (1995-2005) Aleksander Kwaśniewski and consists of the following members: YES founder Victor Pinchuk; President of the European Parliament (2002-2004), Member of the European Parliament (1989-2004) Pat Cox; High Representative for Common Foreign and Security Policy of the European Union (1999-2009), distinguished fellow in Foreign Policy at Brookings Javier Solana; Vice President of Havas Group and Executive Co-Chairman of Havas Worldwide Stephane Fouks.
←

Back to news list