Information society has been moving towards "global intelligence" – Milner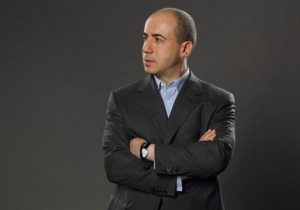 17 September 2011
Key global trends in the information sector will result in formation of a "global intelligence" composed of all people connected via PCs, declared Yuri Milner, founder of Russia-based Digital Sky Technologies, during the discussion "Key Trends That Will Shape Tomorrow's World" at the 8th Yalta forum of YES.
He forecasts that the "global intelligence" composed of all beings connected via PCs will emerge in the next decades. This single brain would not belong to someone, but it would be voluntarily disseminated all over the world defining to some extent each person's actions." According to Milner, some 20% of energy generated on the planet will be used to maintain operations of this "global intelligence".
In Yuri Milner's opinion, this futuristic picture will result from current trends in the information sector. So, the world sees unprecedented growth in the number of Internet users: today 2 billion people are connected to the web. Their number would reach 5 billion the next decade. And the number of devices connected to the Internet would grow to 20 billion (twice as compared to today's level). "This means there will have been 25 billion people and units of equipment joined into the network by 2020. They will be connected between each other, generate and share information," Yuri Milner said.
The volume of information generated on the Earth will also experience an unprecedented growth. "If you sum up all information generated by humankind for the latest 30 thousand years till 2003, this volume of information was created within two days last year. In ten years, this volume of information will be created within one hour," DST founder noted.
The speed of information exchange between people also grows. Facebook, a global social network, during two years increased the information exchange 28 times. "This is not attributable to new users joining the network. The matter is that each person now shares the information far more frequently and in larger volume than two years ago." And Yuri Milner emphasized that a very small portion of this flow is created by organized institutions – such as mass media, commercial companies and public institutions. Most content is generated by ordinary people. Yuri Milner illustrated his conclusions: "1% of the US population read newspapers, 20-25% get information from the Internet."
The importance of social networks will grow and very soon they will directly influence not only awareness, but also private life of people. "There are at least 50% chances that people soon will establish friendly relations between each other based on recommendations of artificial intelligence," Yuri Milner said.
The 8th Yalta Annual Meeting entitled "Ukraine and the World: Common Challenges, Common Future", organized by the Yalta European Strategy (YES) in partnership with the Victor Pinchuk Foundation, takes place in Livadia Palace, Ukraine from 15th to 18th of September 2011.
Special Partners:
Alfa-Bank Ukraine
TNK-BP
Partners:
Visa Inc.
International Renaissance Foundation
ONUR
Communication Partner:
Kyivstar
Media Partners:
Euronews
ICTV
Korrespondent magazine
Korrespondent.net
ERA FМ
←

Back to news list