Inflation hazards long-term competitiveness of Ukraine - Strauss-Kahn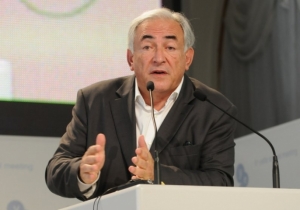 11 July 2008
Current inflation rate in Ukraine hazards country's long-term competitiveness, Dominique Strauss-Kahn, IMF Managing Director, said on Friday during the press briefing at the 5th annual summit of Yalta European Strategy (YES).
He believes that key remedial actions in this situation should be weakened linking to USD in monetary policy and political stability.
Under such a disastrous inflation Ukraine can be competitive only in the short-term period, IMF Managing Director reckons. Current inflation rate can trigger prolonged aftermath for Ukrainian economy.
Among the priorities Dominique Strauss-Kahn pinpointed weakened linking to USD in monetary policy and political stability in the country, the latter being vital.
Challenges caused by globalization are similar for all countries. Therefore, approach of handling these challenges should be global either, Dominique Strauss-Kahn stated. Any development of the global situation will have a pronounced impact on Ukraine, he added.
Dominique Strauss-Kahn noted that end July IMF would update its global forecast to demonstrate actual crisis scale and its current dynamics. Today US economy performance has become slightly better-off and, consequently, Europe's one. Probably, these processes may have positive effect on the situation in Ukraine.
As it was reported, the 5th annual summit of the international network "Yalta European Strategy" (YES), the largest and the most reputable non-governmental forum on Ukraine and EU, is now taking place in Yalta. Over 160 politicians, public leaders, businessmen, social leaders, diplomats and journalists from more than 20 countries of the world participate in the summit. The summit will have been lasting by July 13. Plenary sessions are traditionally held in Livadia Palace.
Among the participants of the 5th annual YES summit are IMF Managing Director Dominique Strauss-Kahn, President of Georgia Mikhail Saakashvili, Vice President of the European Parliament Marek Siwiec, President of Poland in 1995-2005 Aleksander Kwasniewski, Vice President of European People's Party Mario David, Ambassador of Russian Federation to Ukraine Viktor Chernomyrdin, key strategists of the US leading political parties - the Republican Karl Rove and the Democrat Bob Shram.
British politician and public leader Mr. Anthony Charles Lynton (Tony) Blair who served as Prime Minister of the United Kingdom from 1997 to 2007 will become special guest of the summit to speak at the plenary session "Vision of Europe and Ukraine" on July 12.
Ukrainian party of the summit will be represented by the Chairman of Verkhovna Rada of Ukraine Arseniy Yatseniuk, the Secretary of the National Security and Defense Council of Ukraine Raisa Bohatyryova, Vice-Prime-Minister of Ukraine for European and international integration Hryhoriy Nemyria.
"Yalta European Strategy" (YES) is an independent international organization uniting renowned politicians, business and social leaders, journalists to reform Ukraine and facilitate its EU accession. Organization was established in July of 2004 by Ukrainian businessmen and social leader Viktor Pinchuk.
YES annual summits in Yalta are the communication ground to discuss and elaborate political and economic strategies for Ukraine and Europe. Since 2004 the summit has been attended by the 42nd US President William J. Clinton, the Chancellor of Germany (1998-2005) Gerhard Schroeder, the President of Poland (1995-2005) Aleksander Kwasniewski, the President of Ukraine Viktor Yushchenko and others.
Except for the annual summits YES is an initiator and organizer of public opinion polls, forums and deliberations on crucial issues of Ukraine-EU relations. Besides, it carries out regular public opinion polls in EU countries on European outlook of Ukraine.
←

Back to news list