Global changes mean not only challenges but opportunities too – Kwasniewski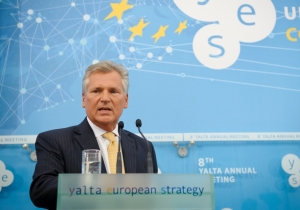 17 September 2011
Fundamental changes taking place in the modern world give rise to challenges, as well as new opportunities, stated President of Poland (1995–2005), Chairman of the Board of YES Aleksander Kwasniwski at the concluding session of the 8th Yalta Annual Meeting
Fundamental changes taking place in the modern world give rise to challenges, as well as new opportunities, stated President of Poland (1995–2005), Chairman of the Board of YES Aleksander Kwasniwski at the concluding session of the 8th Yalta Annual Meeting.
According to him, "there are new forces in this changing world, which could help us take advantage of the opportunities". Among them he named, first of all, new technologies: "They make the world change much faster than politics, and even faster than economic processes. And most importantly, they especially change life of the new generation".
As one of the leading forces of the modern world Kwasniewski also cited an increase of social and political activities of young people. He urged not to label the youth as a "lost generation" based on the forecasts about reduction of jobs for the young generation throughout the world. "It's us who I'd rather call a "lost generation". Young people have whole lives ahead of them", said President Kwasniewski.
Chairman of the Board of YES has also urged not to overdramatize current situation in the global economy. "Of course, we do have problems. But with proper governance, leadership and understanding we can overcome this crisis. Despite all, it cannot be compared to the Great Depression of the 30' of the last century, which resulted, in particular, in the Second World War".
The 8th Yalta Annual Meeting entitled "Ukraine and the World: Common Challenges, Common Future", organized by the Yalta European Strategy (YES) in partnership with the Victor Pinchuk Foundation, takes place in Livadia Palace, Ukraine from 15th to 18th of September 2011.
Special Partners:
ALFA-BANK UKRAINE
TNK-BP
Partners:
Visa Inc.
International Renaissance Foundation
ONUR
Communication Partner:
Kyivstar
Media Partners:
Euronews
ICTV
Korrespondent magazine
Korrespondent.net
ERA FМ
←

Back to news list