Globalization changes the context of religion - Tony Blair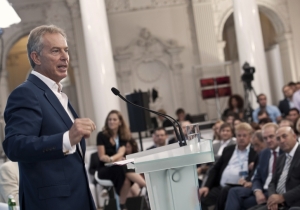 17 September 2011
Religion in XXI century will play an important role in society development as before, and if politicians underestimate the need for peaceful coexistence of religions, this may result in conservation and exacerbation of the existing conflicts and may give rise to new ones. This idea was voiced out in the course of discussion "Key Trends That Will Shape Tomorrow's World" by Anthony Charles Lynton (Tony) Blair, Prime Minister of the United Kingdom (1997 – 2007) at the 8th Annual Meeting of YES.
"People expect that the world will become less religious, that people will abandon religion. But we see the opposite situation," Tony Blair said. "We can see the examples of Ukraine and Russia, where attempts to press religion in communist times did not succeed. We can see the example of China where the number of Christian churches is rapidly growing today and where the leaders notices that the society possessing faith and religion better understands social solidarity and is more attentive to social issues. The number of Evangelic Christians has been growing in the Southern America – conventional Catholic region. Half of the conflicts in the world are attributable to religious motives."
According to the ex-Prime Minister of the United Kingdom, now chairing the Tony Blair Faith Foundation he founded in 2007, most politicians underestimate religious factor in the conflicts. "They got used to say – let's not discuss religion, let's talk about politics. And I say – it's a pity you think so, because religion and culture underlie actions."
Impact of globalization on religion is especially important for Tony Blair. "Globalization changes the context of religion. It brings people together through travelling and migration, draw people together on-line – via the Internet and social networks. People today are much more aware that there are people believing in other faiths and possessing other values." Moreover, people far more interact between each other and share information and this may result in grandiose social shifts: "Waves of feeling and emotions distributed in social networks provoked "the Arab Spring," Blair noted.
One of the most relevant issues in this area is to train democratic approach to religious tolerance which supposes knowledge, respect and acceptance of postulates of other religions. This approach, according to Tony Blair, will help to resolve the key contradictions and conflicts in the twenty first century. "Democracy is not a mere right to vote for the next government… This is the set of world views that allows understanding that there are people whose beliefs differ. And who has the right to be heard but not to be dictated someone's world views." Religious studies and nurturing interreligious tolerance would help next generations "to grow understanding other people, understanding their driving forces and motives."
The 8th Yalta Annual Meeting entitled "Ukraine and the World: Common Challenges, Common Future", organized by the Yalta European Strategy (YES) in partnership with the Victor Pinchuk Foundation, takes place in Livadia Palace, Ukraine from 15th to 18th of September 2011.
Special Partners:
Alfa-Bank Ukraine
TNK-BP
Partners:
Visa Inc.
International Renaissance Foundation
ONUR
Communication Partner:
Kyivstar
Media Partners:
Euronews
ICTV
Korrespondent magazine
Korrespondent.net
ERA FМ
←

Back to news list