Prosecutor General's Office has identfied the initiators of Maidan shooting – Yuri Lutsenko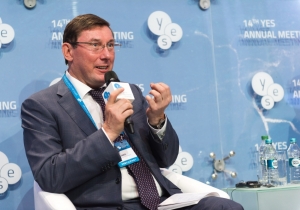 16 September 2017
The Office of the Prosecutor General of Ukraine has found that the order to start firing on the supporters of Maidan during the Revolution of Dignity was given by Viktor Yanukovych, Vitaliy Zakharchenko and Oleksandr Yakymenko, the Prosecutor General of Ukraine, Yuri Lutsenko, said at the 14th Annual Meeting of Yalta European Strategy (YES), organised by the Victor Pinchuk Foundation.
"By the end of this month, we will take the case against those who gave the order to shoot to court. We assume that those responsible were former president, Yanukovych, former head of the Ministry of Interior, Zakharchenko and former head of the Security Service of Ukraine, Yakymenko", Lutsenko said. Lutsenko continued that the investigation against almost all defendants from the Yanukovych entourage has now been completed. "The investigation is over and now it is the court proceedings phase that starts", he concluded.
The online stream of the Yalta European Strategy (YES) 14th Annual Meeting will be available online at yes-ukraine.org as well as on the websites of our media partners, in both English and Ukrainian.
The official Twitter of the 14th YES Annual Meeting is @yes_ukraine, and participants and followers can include the hash tag: #YESUkraine2017
←

Back to news list